PSA: Evan Peters Now Has PURPLE Hair For "American Horror Story"
8 June 2017, 11:12 | Updated: 6 November 2017, 10:27
So long, blue hair.
Just when we were all about to crown Evan Peters as King of Blue hair, he's gone and bloody changed it again. Yep, a few weeks ago Evan stepped out on the set of American Horror Story with his brand new dye job and everyone freaked out. Shall we remind you what he looked like with blue hair?
Here he is with the bright blue do:
evan peters on the set of the new season of american horror story pic.twitter.com/prvvvRz5WK

— AmericanHorrorStory (@ltsEvanPeters) May 29, 2017
Now, behold the majestic purple:
New hair alert. Evan Peters spotted in LA today with Pink/Purple hair. What do you guys think? #AHS7 pic.twitter.com/G5RuK98vWR

— AHS Central (@Facts_AHS) June 6, 2017
Whaaaat is going on? Evan was pictured with a fan on the street a few days ago with a completely different hue to what we saw him rocking just last week. Has he dyed hair another colour specifically for the show or has the wash in wash out hair dye faded slightly? You can still make out a few blue wisps at the end of his hair so it might make a triumphant return in a few days seeing as filming is still underway.
In an quick interview with Hello Giggles, Evan recently revealed that the blue hair was completely his idea. "Hopefully you'll see why in the upcoming season, but I just felt like it was important to do, and changing a lot. Hair's a very loud thing" he said.
"This year actually I came in with a lot of input. I'm very excited about my role this year. In previous years I had to [compromise] but I kinda came in pretty hardcore this year with lot of ideas, which they were very open to doing and it's been amazing."
First blue, now purple... Maybe Evan will end up rocking the red rom Ryan Murphy's 'red white and blue' clue too? Halsey is shook.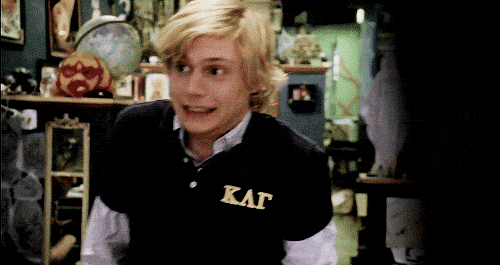 FX
____ ____ ____ ____ ____
Listen to the #PopBuzzPodcast with All Time Low right here or subscribe for free on iTunes to get new episodes sent straight to your phone every Friday.