Evan Peters Just Told An X-Rated Story On Conan And It'll Make You Blush
5 October 2016, 11:52 | Updated: 6 November 2017, 10:35
Oh my...
Evan Peters stopped by Conan O'Brien's chat show on October 4th and it was glorious. There he was in his black suit, red tie and freshly dyed red hair chatting away before revealing one of the wildest, most embarrassing AHS behind the scenes stories of all time.
Yep, he once "flashed" a certain legendary actress with his private bits. And when we say flashed, we mean much much MUCH more than flashed. Watch the video below and try not to scream.
Now, whatever you do... do not go sleuthing in the comment section on this video. Don't read them. Don't do it. Here's a visual representation of the general consensus to save your innocent eyes: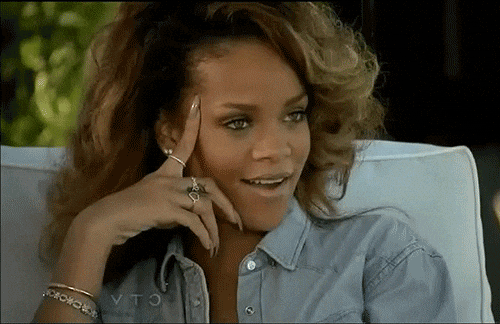 via giphy.com

The scene in question? Remember in Asylum when Sister Jude beats Kit with a cane? Yep, that's the one. Well, things weren't exactly "in place" when the cameras began rolling.
Evan had told this exact story before back in 2012 when he was interviewed by Vulture, where he revealed the mishap happened on the FIRST day of filming! Now, he could have got away with leaving that situation dead and buried in 2012 but no, it was brought up once again on national TV for us all to have a little giggle over.

After explaining the tricky situation to Conan, he felt the need to clarify further with a hand drawn diagram - one which we will likely never see.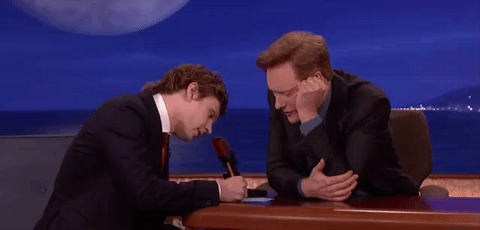 TBS / via youtube

But our favourite part of the entire story? When Evan revealed Sarah Paulson's hilarious and classic Paulson reaction. *crying*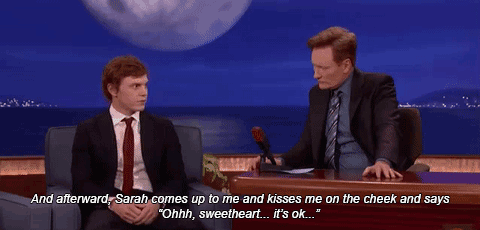 TBS / via youtube.com

Shook.
FX / via giphy.com
___ ___ ___ ___ ___
In this week's edition of the #PopBuzzPodcast, we chat to YouTube legend Joe Sugg about his brand new graphic novel "Username: Regenerated" and grill him as he enters the PopBuzz Confession Booth! What is the most embarrassing thing in his web browser history? What does he hate most about YouTube? And when was the last time he sh*t his pants? Find out below!
You can listen to the entire episode right here on Soundcloud, or you can download it straight from iTunes, Audioboom or TuneIn.