Whoa! There's A Secret "Fantastic Beasts" Deleted Scene And It Changes The ENTIRE Ending
23 November 2016, 11:05 | Updated: 19 November 2018, 12:56
So what you're saying is... *that* might not have happened?! [SPOILERS!]
God, these Harry Potter writers don't know when to stop spilling the tea do they? If it's not JK Rowling herself treating us to some sneaky info about the future of the Fantastic Beasts franchise, it's an actor, a director or in this case, a producer. David Heyman, producer extraordinaire of both Harry Potter and Fantastic Beasts just dropped a bombshell and it changes absolutely everything about the film's ending.
IF YOU HAVEN'T SEEN FANTASTIC BEASTS YET... DON'T SCROLL ANY FURTHER!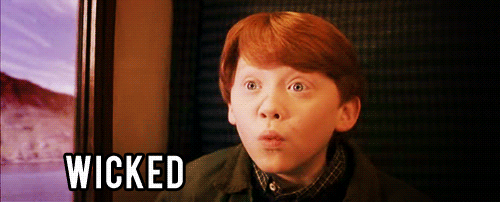 Warner Bros. / via giphy.com
At the end of the film, Credence aka Ezra Miller is revealed to be a powerful Obscurus and is ultimately destroyed by MACUSA - or is he? While everyone is flapping over the true identity of Graves (Colin Farrell), Newt notices a black wisp escape the subway station and head out in the world - leaving Credence's eventual fate up for speculation.
But that little cliffhanger has just been un-cliffhangered, if you will, by David Heyman.
Warner Bros / via giphy.com
Speaking to Cinema Blend, Heyman revealed they had actually shot a completely DIFFERENT ending.
"We actually had a scene, which we cut, which was Credence going to a boat, to get on a boat somewhere else. But we cut that, because we didn't want to have it be such an, "Ahhh, here we go"." OH MY GOD.
This changes EVERYTHING! So basically, Credence is still very much alive after that spectacular battle scene but whether he is still an Obscurus remains to be seen. Will he team up with Grindelwald to cause more havoc? Consider us shook!
It's also not the last we've seen of Ezra's glorious cheekbones as Credence will 100% be returning in the second instalment of the franchise along with the yet to be cast Dumbledore and Johnny Depp's Grindelwald. (#JusticeForColinFarrell) Oh, and it's reportedly due to be set in Paris. Get your robes in check - WE'RE GOING GLOBAL PEOPLE!
Warner Bros. / via giphy.com
___ ___ ___ ___ ___
Catch Brendon Urie on the #PopBuzzPodcast right now. Subscribe for free on iTunes to get new episodes sent straight to your phone every Wednesday.