40 Completely Incoherent And Shouty Questions About The Game Of Thrones Trailer
9 March 2016, 11:46 | Updated: 8 May 2017, 17:09
Side note: Does anyone know where I can get a defibrillator at this time of day??
IT'S HERE. THE TRAILER IS HERE. WE WEREN'T READY!
HBO / via giphy.com
If you haven't already seen it in all its bloody glory, then watch it NOW.
Ok... you done? Cool.
Here's every single burning, shouty, incoherent question we have about the complete and utter chaos we've just bore witness to.
1) Is this the moment where we see Jon Snow arise from his snowy grave? PLEASE SAY IT IS?!
2) WHAT ARE THOSE DORNE SAND SNAKES DOING SAILING OVER TO KINGS LANDING FFS?!
3) Oh wait... it's Jaime returning cause of Myrcella's untimely death, isn't it? Ugh.
4) Jaime and Cersei? REALLY? REAAALLY?!? :(
5) Ok but why hasn't Ramsey Bolton beEN MURDERED YET?!
6) Ummm... who is on fire? WHO IS ON FIRE PLZ? MELISANDRE PLEASE.
7) Side note: Does anyone know where I can get a defibrillator at his time of day - just in case, you know?
8) Ohhh Ser Jorah found Dany's trail. When will Ser Jorah finally get his bae?
9) ACTUALLY, WHEN WILL SER JORAH FINALLY GET HIS SH*T TOGETHER AND STOP BEING PROBLEMATIC?!
10) On a real, how does the Mother of Dragons still manage to look so fly even when she's been captured by the Dothraki?
11) Do you think they actually had that many Dothraki extras or do you think they were CGI'd in?
12) What do those slippery Greyjoys want with us? Look at what they're plotting.
13) Sansaaaaaaaaaaaaaaaa <3 U ok hun?
14) #TYRION #DRAGON
15) Was that The Hound? WAS THAT THE HOUND?!
16) WHEN CAN CERSEI LANNISTER COME OVER TO MY HOUSE AND READ ME FOR FILTH?!
17) Whaaa- WAIT? WHAT?! Was that young Ned Stark? OMFG!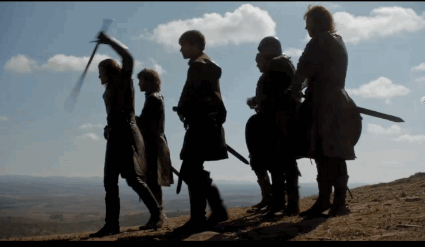 18) WhAt Is HaPpEnInG?!
19) Who punched Arya?! Is she still blind?
20) WAS THAT MARGAERY?! Is she ok?
21) Where do we apply for Brienne of Tarth to become our own personal bodyguard and Kingslayer?
22) PLZ EXPLAIN MELISANDRE AND THE POTENTIAL BOOBIES. WHAT DOES THIS MEAN? REVIVAL? SHADOW BABY?
23) WHAT DOES THIS MEAN HBO?!?!?!?!?????
24) So Jon Snow is really dead then, huh? Looks like y'all are overcompensating with this imagery.
25) WHY IS THIS IS SO MUCH FIGHTIER THAN BEFORE?!
26) All I wanna know is if Jon Snow is fronting this northern Army or not? Too much to ask?
27) WHAT THe-?
28) First of all... WHEN DID BRAN GET SO OLD?
29) Have we really been watching this show for that long? Cause it feels like it.
30) Second of all... WHY THE FRICKITY FRACK IS BRAN IN THE PRESENCE OF THE NIGHT'S KING.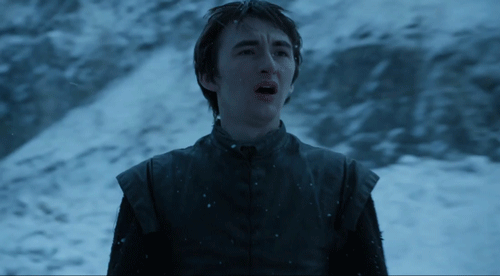 31) IS IT A VISION???
32) Third of all... WHERE THE F*CK IS HODOR?
33) Fourth of all... Can someone please confirm or deny the status of Ghost the Direwolf? That's all we really need plz.
34) Fifth of all... what if Bran wargs into the Night's King and actually tricks the White Walkers? OMGGG. STOPPP.
35) SER DAVOS WHAT ARE YOU DOING WITH LONGCLAW?!
36) hOW?
37) WHa-?
38) W--?
39) BUT---?
40) WHaAAAAaaaAAAAAAAAAT?!
Every #GoT fan in the world right now, tbqfh.
HBO / via giphy.com