Apparently, This Is What's Gonna Happen On "Game Of Thrones" Next Season...
25 October 2016, 14:11 | Updated: 8 May 2017, 17:09
THIS POST IS DARK AND FULL OF SPOILERS.
If you're reading this, you've probably just recovered from the catastrophic events of the Game Of Thrones season 6 finale (or you're well into your recovery, at least.) As you may have already seen, thanks to Emilia Clarke's iconic Instagram, filming for the seventh and penultimate season of the show is well underway. Spoilers have now been finding their way onto the internet and we are here to spill them all.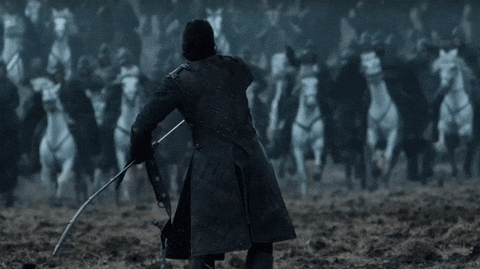 via giphy.com
Before we dive straight in, let's just recap where we left Westeros at the end of S6.
Jon and Sansa were together at Winterfell after defeating Ramsay Bolton and taking back the North. Yay!
And we also learned about Jon's true parentage. Rhaegar Targaryen + Lyanna Stark = Jon confirmed. Double yay!
Cersei blew up the Sept with Wildfire, pried the Crown from the head of her cold, dead son and took her place as Queen of the Seven Kingdoms.
Daenerys joined forces with the Greyjoys, got on a boat and started sailing toward Westeros.
A girl named Arya Stark escaped the Waif and took sweet revenge on the Freys.
Brienne and Tormund might have just become our new OTP.
Sam got his own library ala Belle from Beauty and the Beast.
And Gendry is still missing.

OK - so you wanna know what's due to go down in Season 7? TURN BACK NOW IF YOU DON'T WANT TO DIE.
via giphy.com


ARE YOU SURE YOU WANT TO CONTINUE? YES? THEN GO FORTH MY CHILD...
via giphy.com

According to a few threads on Reddit along with ONTD and WatchersOnTheWall.com, here's what is about to kick off when the show returns in 2017. Now kids, it's important to take these with a pinch of salt because they might end up being fake but still... feel free to freak out and scream as much as you want. You ready?
Daenerys will reach Kings Landing where she will have a meeting with Davos and Brienne... IN THE DRAGON PIT. (CONFIRMED)
Jon will travel south, where he meets up with Theon.
Arya will reach Winterfell - on her way there she briefly reunites with Nymeria. (Already crying, tbh.)
Bran will also reach Winterfell, after crossing the Wall in episode one. (Stark Reunion plz!)
Littlefinger tries to play Sansa and Arya off against each other but they aren't having of his sh*t.
Jon and Dany will FINALLY share a scene in Dragonstone - where they apparently join forces to fight the White Walkers. (CONFIRMED)
And they apparently hook up. (!!!!!!!)
Jon goes beyond the Wall to capture a White Walker, brings it to King's Landing where the Mountain attempts to kill it and everyone is SHOOK when they realise it can't be killed with normal weapons.
The Wall will fall at the end of the season.
Lady Olenna spills the tea about the REAL reason Joffrey died to Jaime and she drinks poison. :(
The Lannisters fight the Martells and the Tyrells - and they win, obvz.
Cersei and Jaime hook up AGAIN. (Make it stop...)
Cersei DOES NOT die in Season 7. Her schemes are still alive and well going into the final season.
The iconic Lady Lyanna Mormont returns. (CONFIRMED)
And Gendry is found, after all this time, making weapons in Kings Landing.

Well then, there you have it! Time to start building your theories, everyone!

via giphy.com
___ ___ ___ ___ ___
Listen to this week's #PopBuzzPodcast featuring The Vamps right here on Soundcloud, or download for free from iTunes to get new episodes sent straight to your phone every Wednesday.
You can also find us AudioBoom or TuneIn - if that's what you're into.