WATCH: Dustin From "Stranger Things" Can REALLY Sing And It'll Leave You Shook
1 September 2016, 13:59 | Updated: 7 November 2017, 16:50
First Eleven, now Dustin... When can we expect the Stranger Things arena tour?
Another day, another kid from the cast of "Stranger Things" absolutely slaying on every single level and reminded us that we are not worthy.
First it was Milly Bobby Brown aka Queen Eleven who revealed herself as an amazing singer on her very own YouTube channel and now we've just discovered that Gaten Matarazzo, who plays the adorable little curly haired bae, Dustin on the Netflix show is also a dab hand at the ol' singing things and he's absolutely MIND BLOWING.
Netflix / via giphy.com
Before he moved into 1980's Indiana and started wearing trucker caps, it turns out bebe Dustin was an actual Broadway legend. Yep, in 2014, Gaten took on the role of Gavroche in the Broadway musical, Les Miserables.
Not quite content with Gavroche's little musical number, Gaten once took to the stage to perform one of the biggest songs from the musical, "Bring Him Home", usually sung my the main character. And he NAILED IT.
Here he is at 10 years old singing a duet with a fellow Les Mis cast member belting out a flawless Bruno Mars cover.

Here is at SEVEN performing at the US Open with his sister Sabrina.

And back in 2015, Gaten had the honour of performing the US National Anthem at a New York Mets baseball game with his sister which resulted in an explosion of applause from the THOUSANDS of fans in the stadium! Wowww!
Ugh, we literally can't cope! Is there anything these kids can't do?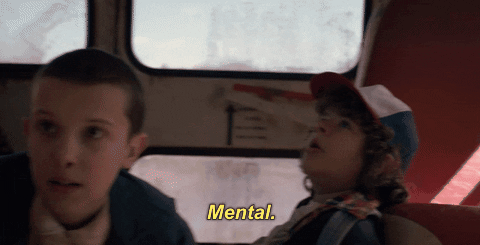 Netflix / via giphy.com