Do Joe and Georgia end up together in Ginny & Georgia? Fans hate the Cynthia storyline
9 January 2023, 12:48 | Updated: 9 January 2023, 12:53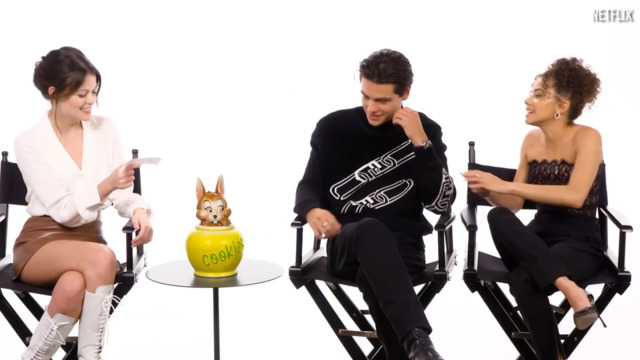 Ginny & Georgia cast reveal their secret talents
Ginny & Georgia fans want Joe and Georgia to be endgame but how does Ginny & Georgia season 2 end?
Ginny & Georgia fans have long shipped Joe and Georgia but with Mayor Paul and Cynthia (!) in the way, do they ever date?
There's no denying that one of the reasons why people love the Netflix series so much is down to Georgia's many iconic love interests. In season 1, we saw Ginny fall in love with Mayor Paul and even get engaged to him. However, during the show, it also becomes apparent that Georgia still has unfinished business with her ex, Zion, who also happens to be Ginny's dad.
READ MORE: Ginny & Georgia season 3: Release date, cast, possible plot and trailers
Nevertheless, it's restaurant owner Joe and his undeniable chemistry with Georgia that fans can't get enough of. Do the two characters end up together though? And how do Mayor Paul and Cynthia fit into their will-they-won't-they relationship? On top of that, why are fans so outraged by one of the new storylines involving Joe and Cynthia in the second season?
WARNING: Ginny & Georgia season 2 spoilers below
In Ginny & Georgia season 1, it immediately becomes apparent that there is a romantic spark between Joe and Georgia. Not only did they first meet and hit it off as teenagers (Joe even gave Georgia a pair of sunglasses that she has kept ever since) but they also have a natural chemistry and bond that stands out among all of Georgia's love interests in the show.
Season 2 picks up with Georgia and Joe still just friends and Georgia engaged to Mayor Paul. All season long, it's apparent that Joe is madly in love with Georgia. However, she continues to appear oblivious to his feelings while also relying on him whenever she's in need. As a result, Joe seeks romance elsewhere and ends up hooking up with Cynthia.
Yes. Georgia's frenemy Cynthia. The unlikely duo end up sleeping together after Cynthia begins taking comfort in going to Joe's restaurant while her husband Tom is in a terminal coma. However, up until that point, Joe and Cynthia have never shown any chemistry and fans are confused as to why the writers would make them get together.
One person tweeted: "I'm so sick bc who asked for joe and cynthia?" Another viewer added: "CYNTHIA AND JOE??!? WHAT THE FUCK???? WHAT THE ACTUAL FUCK???? NO".
if you're not going to give us joe and georgia at least introduce a fine young woc in the show bc i hope you know how twisted you are for giving us joe being sexy only for it to be with CYNTHIA, like it's just very sick @ G&G writers #GinnyandGeorgia

— Bolu Babalola 🍯&🌶 (@BeeBabs) January 8, 2023
While Joe and Cynthia do sleep with each other multiple times in season 2, they do thankfully call it quits before the season ends. Joe admits that he's really in love with Georgia and Cynthia thanks him for helping her distract herself from her grief. The pair agree to remain friends and Cynthia later confesses to Georgia that she was sleeping with Joe.
Shortly afterwards, Joe goes to Georgia's to return a pair of sunglasses that Ginny left in the restaurant (the EXACT pair of sunglasses that Joe gave Georgia all those years ago). Georgia confronts Joe about Cynthia and asks if he remembers where she got them from. Georgia tries to give them back but Joe insists that she keeps them.
Joe then confesses his feelings and asks why Georgia flirts with him. Emotional, Georgia tries to assert that they are just friends and Joe asks if she has feelings for him. Georgia says: "I'm getting married Joe". Joe then apologises and tells Georgia that he just wants her to be happy.
Before Joe goes, he asks Georgia if she ever thought about them possibly dating? Georgia confesses that she has by saying: "There's nothing I don't think of Joe." Joe then leaves and the next episode Georgia marries Mayor Paul.
We shouldn't give up all hope though! While Georgia may be now married to Mayor Paul, it's become clear that she reciprocates Joe's feelings. We imagine that those feelings will be explored in more depth in season 3.
What do you think? Are Joe and Georgia endgame?
Read more Ginny & Georgia news here:
Glass Onion Cast Take On A Chaotic Mystery Interview | PopBuzz Meets