Ginny & Georgia season 3: Release date, cast, possible plot and trailers
10 January 2023, 13:02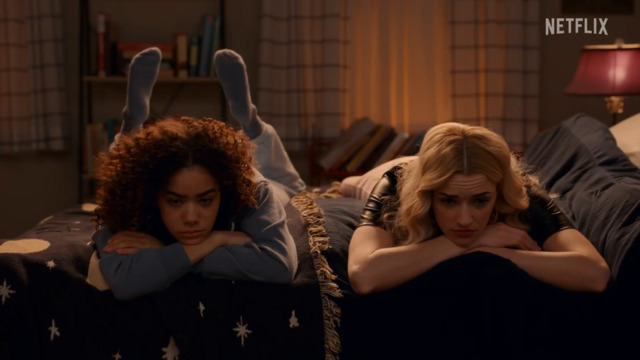 Watch the trailer for Ginny & Georgia season 2
Will there be a Ginny & Georgia season 3? Here's everything we know including the possible release date, what might happen next and more...
After two years of waiting, Ginny & Georgia finally returned to Netflix with an even bigger, even more dramatic and even more shocking second season. And after binge-ing those 10 episodes, fans are desperate to see what happens next.
Ginny & Georgia season 3 might not have the green light at Netflix just yet, but seeing as season 2 ends on a huge ol' cliffhanger, viewers are in agreement that there better be another instalment because they literally cannot leave us all hanging there.
READ MORE: Who does Georgia kill in Ginny & Georgia? All her murders explained
The drama series, led by Brianne Howey and Antonia Gentry, proved incredibly popular when it first premiered back in 2021 so chances of a renewal seem like they're pretty high. Here's everything we know about Ginny & Georgia season 3, including the possible release date, what might happen next and more...
Will there be a Ginny & Georgia season 3?
Has Ginny & Georgia season 3 been confirmed?
Unlike the likes of Bridgerton and Emily in Paris, Ginny & Georgia is not one of the lucky shows that has been blessed with a double season renewal. So far, there's no confirmation that a third season is in the works just yet.
Netflix tend to wait a month or two before announcing the return of a series – season 2 was confirmed two months after season 1 was released in 2021.
If Ginny & Georgia season 2 manages to stay in the Netflix Top 10, and maintains a strong completion rate amongst viewers, season 3 is a strong possibility. Thankfully, the series is very popular so the confirmation of a third season could be on the cards soon.
When will Ginny & Georgia season 3 be released?
Again, that all depends on whether or not it gets renewed. Fans will likely have a better idea about when the show will return once production begins.
Hopefully, viewers won't have to wait as long as they did for season 2's release. Season 1 was released in February 2021, with season 2 arriving almost two years later in January 2023. As for filming, both season 1 and season 2 each took around 4-5 months to film.
If Netflix keep the trend of releasing Ginny & Georgia at the start of the year, we could possibly see season 3 in early 2024.
WARNING: Spoilers ahead for Ginny & Georgia season 2's ending!
What will happen in Ginny & Georgia season 3?
Where do we even begin with this one?! Season 2 ends on a shocking cliffhanger with newly wed Georgia being arrested for the murder of Tom Fuller. Season 3's main storyline will likely focus on Georgia: Do they have enough evidence to convict her of the murder? Will they uncover any further evidence about the other murders she has committed? Will Paul stand by her? Will she end up in prison?
Elsewhere, Ginny and Marcus might have broken up but they remain good friends. Season 3 could explore their friendship, whether or not they'll get back together or perhaps even dive into a new relationship for Ginny and how that could affect Marcus.
As for Austin? He'll probably be in tough place himself, having shot his father Gil in the arm as well as witnessing Georgia kill Tom. (At the end of season 2, as he watches his mother get arrested, he panics and swears to Ginny he never told anyone about what he saw.)
Whatever happens in season 3, we know it's going to be full of drama.
Ginny & Georgia season 3 cast: Which characters will return?
Well, it looks like all the main cast will be returning for season 3. Here's who will likely be back next season, if Netflix give the green light for a third outing.
Antonia Gentry as Ginny
Brianne Howey as Georgia
Nikki Roumel as younger Georgia
Diesel La Torraca as Austin
Scott Porter as Paul
Felix Mallard as Marcus
Sara Waisglass as Max
Jennifer Robertson as Ellen
Raymond Ablack as Joe
Nathan Mitchell (Zion), Mason Temple (Hunter), Katie Douglas (Abby), Chelsea Clark (Norah), Sabrina Grdevich (Cynthia), Daniel Beirne (Nick) and Rebecca Ablack (Padma) will all likely return alongside the rest of the Wellsbury residents.
Aaron Ashmore will also likely be back as Gil, as he seeks to gain custody of Austin. As will Alex Mallari Jr. as PI Gabriel Cordova, as the investigation into Georgia continues.
There'll also likely be more characters joining the cast, should season 3 get picked up.
Glass Onion Cast Take On A Chaotic Mystery Interview | PopBuzz Meets