Everyone Hates The Main Character In "Girlboss" And Honestly, Same…
12 May 2017, 14:37 | Updated: 12 May 2017, 14:43
"I'm on episode 10 and I still hate her."
If you've been scouring Netflix for something new to watch the past week in the aftermath of 13 Reasons Why, you may have stumbled across one of their brand new TV series, Girlboss.
Girlboss? YAS! Sounds like a story about a kick-ass female entrepreneur who manages to make it big on the career ladder against all odds. A feminist's dream. A real rags to riches story. Empowering. Inspiring. Weeeeeeell, not quite. And everyone has been calling it out.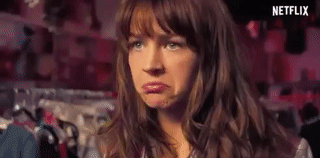 Netflix
The show is based on the life - and subsequent 'femtrepeneur' memoir - of Sophia Amoruso, the founder and owner of online fashion brand Nasty Gal. The portrayal of Sophia in the show is an exaggeration of her IRL story and persona.
In the show, Sophia Marlowe (standard change of name for the purpose of this on screen endeavour) starts off as a girl just trying to make a buck on eBay by selling clothes she finds in vintage stores and she's actually alright. When she manages to sell her first jacket for a massive profit, you find yourself cheering for her. But as the show goes on, you actually low-key start caring less and less about her success and start worrying more and more about who she's taking down to make it to the top.
In short, Sophia is kind of a massive dick. She dumps on EVERRRYYOOONEEEE. Her best friend. Her "un-official" boyfriend. Her online competitors. She steals. She's completely self-obsessed and even the character herself admits in one of the later episodes that she's a "garbage person."
And to be honest, half the internet else thinks so too.
I hate this Sophia in Girl Boss.

— Madam BeastMode (@MadamBitchesa) May 11, 2017
Even though I'm enjoying the programme I kind of hate the main character #GirlBoss

— Liley-Beth Griffin (@lileybethg) May 10, 2017
I put on Girlboss in the bg of doing homework and i already hate the main character

— mimstagram (@koalateus) May 2, 2017
I've started watching Girl Boss and I hate the main girl so much it paaaaains me

— Amy Bullock (@amyazing6) May 1, 2017
anyways I'm watching girl boss and I already hate Sophia

— Shaikha (@codegayasss) May 1, 2017
still rooting for sophia to fail. selfish, ungrateful, privileged white girl. on ep 10 and i still hate her. #GirlBoss

— Eve Rizza Katalbas (@evekatalbas) May 1, 2017
I'm watching girlboss and I fuckin hate the main character but rupaul is great in it

— shelbones (@ShelbyGloom) May 1, 2017
Not *everyone* hates her of course, but apparently, according to Britt Robertson who plays Sophia, we're actually MEANT to feel that way about her.
When asked about the backlash against her character, Robertson told Bustle: "I think that's sort of the point to the show, to be honest with you because she is [unlikable], it's a part of what the story is. She can't make her way in life because nobody understands her story or gets who she is. She's not a traditional female heroine. But, you know, I think it's all fair. You can feel however you want to feel about the character."
To be fair to Sophia, we're all a bit sh*tty and self-centred at the age of 23. Dare I say it, but there's probably a bit of Sophia in all of us. (Ew... lol)
But for real, if you came to Girlboss looking for something to empower and inspire, you *might* need to log out and turn around. Sorry about it.
Netflix
____ ____ ____ ____ ____
Listen to the #PopBuzzPodcast with Hey Violet right here or subscribe for free on iTunes to get new episodes sent straight to your phone every Friday.