"The Good Place" Season 3: Release Date, Cast, Plot, Trailers And Everything You Need To Know
30 January 2018, 17:17 | Updated: 30 January 2018, 17:23
Here's everything you need to know about Netflix's "The Good Place" season three.
If you're like us, your latest TV obsession will no doubt be the hilarious Netflix comedy series The Good Place. And, if you're like us, you're probably still recovering from the absolutely earth-shattering plot twist that happened at the end of the season one finale. (Still not over it, still shook.)
Anyway, with an incredible second season all but wrapped up and in the bag, it's time to start looking forward to what might happen to Eleanor, Chidi, Tahani, Jason, Michael and the iconic Janet in season three. And by the sounds of things - we're not ready. We're not ready at all.
Here's everything you need to know about the third season of The Good Place.
Netflix
Has The Good Place been renewed for season 3?
Yes! The Good Place is officially returning to Netflix for a third season. It was announced on November 21, 2017 that the show would be returning for 13 more episodes.
Netflix
When will The Good Place season 3 be released on Netflix?
There has been no official release date pencilled in the Netflix diary just yet but judging by the release dates for season one and two, September 2018 is probably a safe bet.

Netflix
How many episodes will be in The Good Place season 3?
There will be thirteen episodes in season three, the same as season one and two.

Netflix
Who will be in the cast for The Good Place season 3?
The usual suspects will likely return. Kristen Bell's Eleanor and Ted Danson's Michael will almost definitely be returning. As will Jameela Jamil as Tahani, William Jackson Harper as Chidi and Manny Jacinto as Jason. And don't worry - D'Arcy Carden's Janet, both good and bad... and maybe medium... will be probably back too.
You can expect more mind-blowing guest stars in the same caliber as the eternal judge Maya Rudolph too thanks to creator Mike Schur's connections. Maybe Maya will even reprise her role as the eternal judge anyway?!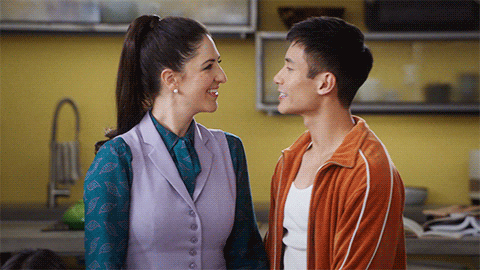 Netflix
What's going to happen in The Good Place season 3?
The show hasn't officially finished yet but seeing as Jen is about to send all four of them back to the actual Bad Place, we could end up with a full season of Eleanor, Chidi, Tahani and Jason just accepting their lives in the Bad Place, where they belong. (Or worse... the VERY BAD PLACE.)
Creator Mike Schur reportedly told the cast members the plot for season three before they had even started filming season two. Jameela Jamil also spoke to Vulture and revealed that NO ONE has correctly guessed what's going to happen in season three either so whatever happens, we DEFINITELY won't have seen it coming.
Netflix
Is there a trailer for The Good Place season 3?
So far, there is no trailer for season three but when there is, we'll let you know!

Netflix