Gossip Girl reboot cast: Meet all the new Upper East Siders coming to HBO Max
12 November 2020, 12:53 | Updated: 22 June 2021, 16:05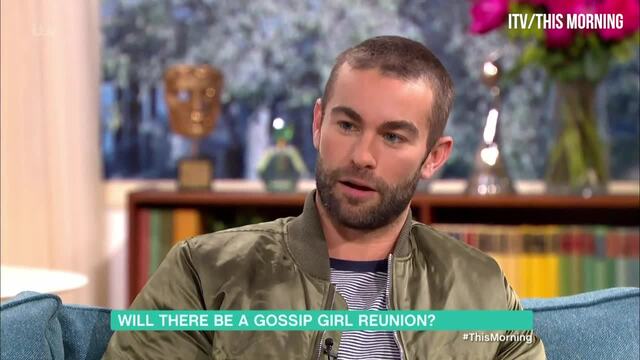 Chace Crawford opens up about a Gossip Girl reboot
HBO Max have announced who will star in their upcoming Gossip Girl reboot cast.
Greetings Upper East Siders, the Gossip Girl reboot is on its way and now HBO Max have revealed who is in the main cast.
Ever since the final episode of Gossip Girl aired in 2012, fans have been desperate to see more. We may now know that Dan Humphrey (Penn Badgley) was Gossip Girl all along but viewers are keen to learn what New York's elite are doing now. With Blair (Leighton Meester) and Serena (Blake Lively) all grown up, which teens have followed in their high fashion footsteps.
READ MORE: Gossip Girl creator says reboot will be "very, very queer" as first look photos go viral
HBO Max have ordered ten episodes of a Gossip Girl reboot set eight years after the first edition of the show ended. There's no information yet on whether the original cast will appear at all (Chace Crawford, who played Nate in the iconic CW series recently told Digital Spy that he would "absolutely cameo" in it) but HBO Max have now confirmed who is in the cast.
Who will star in the Gossip Girl reboot?
Earlier this year (Mar 3), Deadline announced the names of five of the brand new Gossip Girl reboot cast members and HBO Mac have since announced multiple others. With that in mind, we've done a deep dive into who they all are so that you can get to know them.
Emily Alyn Lynd
Deadline reports that Emily will play a character in Gossip Girl called Audrey who "has been in a long term relationship and is beginning to wonder what more could be out there." You'll probably recognise Emily from high-profile roles in films including Doctor Sleep and The Babysitter and TV series including Revenge and Code Black.
Following the Gossip Girl announcement, the 19-year-old took to Instagram to write: "see u soon upper east side, xoxo ;)".
Whitney Peak
Whitney Peak will join Emily as one of the main characters in the Gossip Girl reboot. It's currently unclear what character she will play but we imagine that Emily and Whitney could become the new Serena and Blair. Whitney is best known for playing Judith Blackwood in Chilling Adventures of Sabrina season 3.
To celebrate the casting news, the 17-year-old actress wrote "secret's out ... xoxo" on her Instagram page.
Evan Mock
Expect to see Evan Mock turn heads in the Gossip Girl reboot. The Hawaiian model and skateboarder is yet to act in any TV shows or movies, but he already has over 440,000 loyal followers on Instagram. Announcing the news on Instagram, Evan simply wrote: "xoxo?????".
Zión Moreno
Mexican-American actress Zión Moreno is also part of the main cast of the new Gossip Girl. You may already recognise Zión from her modelling work or from her standout role in the Mexican Netflix teen drama Control Z. Zión is trans in real life and she played a trans character called Isabela on the show.
Thomas Doherty
Thomas Doherty is also one of the lead cast members of the Gossip Girl reboot. Thomas is most famous for playing Harry in the Descendants movies, Sebastien in Legacies and Liam in High Fidelity. It's unclear who he will be in Gossip Girl but we are ready to find out.
Eli Brown
Eli Brown is also joining the main cast of the new Gossip Girl reboot. The 19-year-old star recently appeared as Dylan Walker in the Pretty Little Liars spin-off The Perfectionists and as Dave in Netflix's Spinning Out. As it stands, HBO Max haven't said who Eli will play.
Jordan Alexander
Jordan Alexander will also be part of the Gossip Girl reboot. Jordan is a rising star who is best known for her appearances in Sacred Lies as Elsie and Unbury the Biscuit as Liz. We can't wait to see what she brings to the Gossip Girl universe.
Jason Gotay
Broadway performer Jason Gotay will be making his TV drama debut in the Gossip Girl reboot. The 30-year-old has acted in productions of Spider-Man: Turn Off The Dark and Bring It On. He also featured in NBC'S Peter Pan Live! in 2014. Following his official casting, Jason wrote: "xoxo" on Instagram.
Tavi Gevinson
Tavi Gevinson is predominantly known for her work as a writer. She founded and edited the beloved teen magazine Rookie. However, she has since made a name for herself as an actress. As well as acting in multiple Broadway theatre productions, Tavi had a role in Scream Queens and she is now adding to her resumé with a role in Gossip Girl.
Savannah Smith
Savannah Smith is another actress who has been cast in the new Gossip Girl. Unlike many of the other stars, Savannah has not acted professionally before so Gossip Girl marks her TV debut. We look forward to seeing her in action.
Jonathan Fernandez
Jonathan Fernandez is another actor currently confirmed to star in the Gossip Girl reboot. The 36-year-old has performed in series including Lethal Weapon, Girls and Younger. Given his age, we imagine that he will play one of the parents or even a teacher in the new edition of Gossip Girl.
HBO Max will release the Gossip Girl reboot at some point in 2021. We'll update you as soon there any further updates.