5 Reasons Why "Grease: Live" Was Surprisingly Great
1 February 2016, 11:04 | Updated: 8 May 2017, 17:09
The one that we didn't know we wanted!
Sunday night saw Fox's live staging of the classic, leather-clad musical Grease finally come to fruition, boasting an all-star celebrity cast donning those skin-tight outfits and belting out those iconic tunes.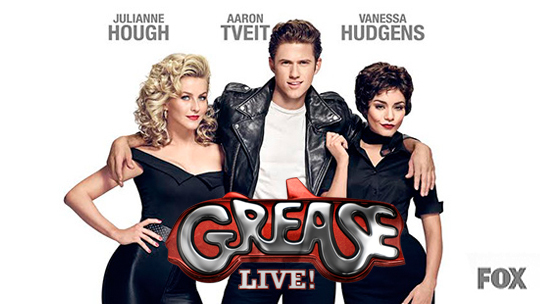 FOX
Hopes weren't necessarily too high given the rather muted reception received by NBC's recent attempts to revive the live TV musical with their twee take on The Sound Of Music, bemusing Peter Pan and well-sung but underwhelming The Wiz.
But, against the expectations, Grease: Live turned out to be funny, gripping and entertaining live television. So, where did it all go right? Here's some of the pointers NBC should be writing down.
1) Clever Casting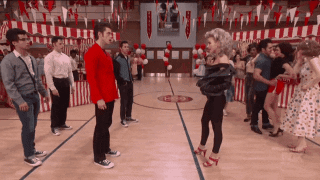 FOX
The starry cast was the perfect mix of musical theatre pros (Aaron Tveit's Danny benefited from his years as a Broadway leading man), TV favourites (Julianne Hough put her Dancing With The Stars experience to work and her chemistry with Tveit was palpable) and modern pop icons (Joe Jonas turned up for the "Hand Jive", Boyz II Men were the teen angels and the creator of "the PopBuzz greatest album of 2015", Carly Rae Jepsen, impressed as "Beauty School Drop Out" Frenchie). But best of the bunch was High School Musical graduate Vanessa Hudgens, knocking her role as Rizzo out of the park with a heartbreaking solo number, made all the more stunning given her professionalism in the face of the personal tragedy she suffered just prior to filming.
Bravo all.
2) Clever Creatives
Live television and musical theatre share one thing in common - they live and die based on their energy levels. FOX therefore made a very smart decision by hiring director Tommy Kail, currently gaining plaudits by the day for his sterling work on Hamilton, and pairing him with broadcast director Alex Rudzinsk, a safe set of hands best known for his work on Dancing With The Stars. The presence of a musical theatre expert and a live TV pro ensured that the dance sequences zipped along at a pace worthy of a tripped out 1950s sports car.
3) A (Good) New Song
There's an odd tradition that when a musical makes the transfer from stage to screen, a new song is thrown into the mix in order to allow the composers to add bonus intrigue for existing fans/become eligible for an Oscar nomination. In this case, the syrupy ballad "All I Need Is An Angel" was composed for the occasion by Tom Kitt and Brian Yorkey, the team behind Aaron Tveit-starring Tony Winner Next To Normal. Its addition certainly brought in some extra attention in the run up to the event and, in the hands of St Jeppo, made for a sweet, sombre moment to balance out the flashier chorus numbers.
4) A Live Audience
The problem NBC musicals faced more than any other was a complete lack of atmosphere, each extravagant number being met with an awkward silence as actors held their fixed grins in perfect position, waiting for the director's nod to indicate that they had gone to a commercial break. FOX clearly noticed the issue as not only were the in-studio audience audible in their applause at the end of each number, they were even visible at the finale, the cast acknowledging the live TV tradition they were replicating by hopping on golf carts and heading over to greet the public and dance the night away.
Also, bonus points to the actor on the second golf cart who managed to narrowly avoid a live crash over the kerb while dancing.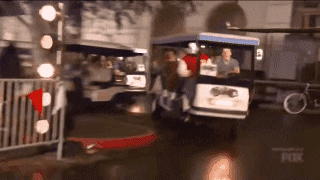 FOX
Close one.
5) Respect For The Original
Original Frenchie movie actress Didi Conn made a brief cameo alongside Jeppo in a nod to the past. Beyond that, the catchy songs we all know and love were delivered with a crowd-pleasing gusto, giving them a slight modern twist and a beefed up orchestration, while keeping their original sense of fun intact. And it helps that the songs themselves are bona fide tunes of the highest calibre.
What a song.
So, we await FOX's upcoming live Rocky Horror Picture Show with much glee (pun intended). The live musical is back kids, and, if you leave your preconceptions at the door, its really rather fun.
Wop baba lumop a wap bam boom!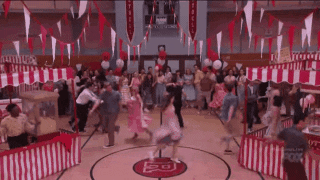 FOX