The One "Grey's" Character Shonda Rhimes Regrets Killing Is Not Who You Think It Is
21 April 2017, 15:46 | Updated: 2 February 2018, 10:42
Sorry babes, we have a strict no take backs policy at Grey Sloan Memorial.
The past 13 seasons of Grey's Anatomy have been a rough ride, haven't they? Deaths, babies, bombs, deaths again, ferry boat accidents, weddings, more deaths, break ups, plane crashes, lost shoes... Like Meredith and that freakin' carousel, it just never seems to end.
Having been at the helm of a beloved show for the past 13 years, one would be fair to think that showrunner extraordinaire and general all-round badass lady Shonda Rhimes has had a fair few regrets about the characters she's had to bump off. But the one character she says she wishes never had to die? It's not who you think it is.
Before we get into it, it's time to place your bets as to which character really didn't want to kill off? Our beloved O'Malley? Poor Lexie? Doc the freakin' dog? Nope. None of them.
ABC / via giphy.com
In an interview with EW, Shonda, Ellen Pompeo and episode director Peter Horton threw it right back to a little episode in season two called "As We Know It" in which Meredith finds herself standing in the middle of an OR with her hand on an unexploded bomb inside a body. To this day, that remains one of the best episode of the show. Top 3. Easily. Don't @ me.
Anyway, long story short, the one character that Shonda really didn't want to send to Shondaland Heaven was Dylan the bomb squad guy, played by Kyle Chandler. ABC / via giphy.com
When recalling the conversation she had on set with Chandler that day, she said "He would pitch me ideas on how Dylan, his character, could maybe not explode, and I would show him the line in the script that said, "Dylan explodes." That's literally all it said. He was written to explode. But I did not expect to have Kyle Chandler. I didn't want to explode him."
We didn't either, babe. *sighs* Forever in our hearts, Dylan the Bomb Squad Guy.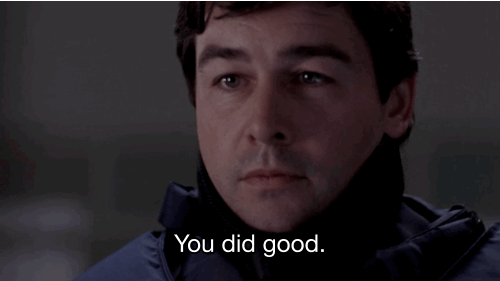 ABC / via giphy.com
____ ____ ____ ____ ____
Listen to the #PopBuzzPodcast with Secret Midnight Press' Ashley Dun & Jesse Cale and Carmen Carrera right here or subscribe for free on iTunes to get new episodes sent straight to your phone every Friday.