This Guy Got Kicked Out Of 'The Emoji Movie' For The Most Disgusting Reason
4 August 2017, 10:54 | Updated: 4 August 2017, 15:10
Police in New Jersey are now searching for a man who got a little too excited by the sight of all his fave emojis on the big screen.
The Emoji Movie, the TJ Miller and James Corden-starring CGI animation for kids, has not had the greatest of receptions so far.
After a series of shockingly poor audience and critic reviews, the film currently holds a rating of just 7% on Rotten Tomatoes. Despite this though, the movie did have an opening weekend take of $24.5m. Not bad for a film based on a bunch of inanimate graphics you keep on your phone.
But, not everybody flocking to the theater made it all the way through to the end as, according to The Hollywood Reporter, one man was kicked out of a screening in New Jersey this week for, wait for it...playing with himself while he watched The Emoji Movie.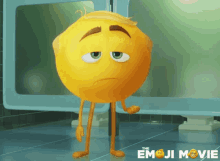 The Emoji Movie
Yes, really.
Police are now investigating after the man, sat in the back row, allegedly had "his hands down his open pants" and was promptly asked to leave by staff. A surveilance photo of the man in question has since been released to authorities.
So yeah, all very gross, obviously, but it does make you wonder - which emoji in particular got him so excited? Was he a fan of the classic eggplant? Or a cheeky peach? Or does he just have a thing for poop?
The Emoji Movie
Tragically, we may never know.
The Emoji Movie is in cinemas everywhere now. Try to keep your pants on
____ ____ ____ ____ ____
Listen to the #PopBuzzPodcast with Riverdale's KJ Apa right here or subscribe for free on iTunes to get new episodes sent straight to your phone every Friday.