Lin-Manuel Miranda just dropped the trailer for Hamilton on Disney+
22 June 2020, 11:52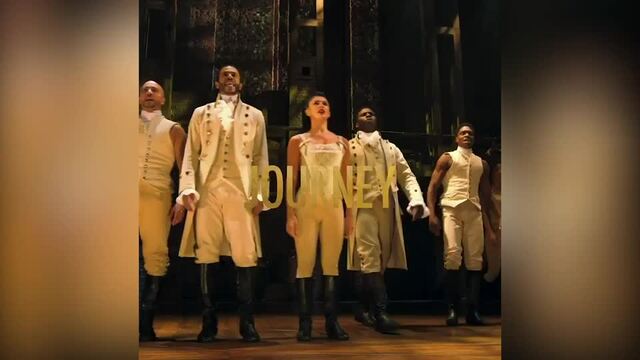 Disney releases new sneak peek trailer for Hamilton - The Movie
The Broadway production of Hamilton starring Lin-Manuel Miranda and Leslie Odom Jr. is coming to Disney+ on July 3, and we've just got a full look at the trailer.
Hamil-stans assemble, because the leading love-of-our-lives, Lin-Manuel Miranda, just dropped the full trailer for the Hamilton film coming to Disney+ very soon.
Ok, so it's not technically anything new (because hey, we can't rewrite history), but the Broadway show has been filmed in HD and turned into a film for our viewing pleasure - all at the cost of a subscription to the streaming service, rather than a pricey theatre ticket and a waiting list. Time to warm up those vocal chords.
Just a couple of weeks after it was announced, we've finally got the trailer to the show-film coming July 3, and whether you're a regular Hamilton patron, or have simply waited far too long to see what the hype's about, it's pretty damn goose bump-worthy.
READ MORE: QUIZ: Can we guess your age based on your taste in Disney films?
Breaking the news on Twitter, creator of the history-rap musical and the original Alexander Hamilton himself, Lin-Manuel Miranda wrote, "July 3 on Disney+, #Hamifilm. May you always be satisfied," and it's safe to say it almost made spending half the year in lockdown worth it.
See for yourself...
The show, which made its Broadway debut back in 2015 (before it came to the UK in 2017), cost Disney $75million to get onto the platform, and has been a total sell-out ever since its first performance. It's not only a show that makes history cool and gloriously offensive while having one of the most diverse castings in theatre history, but it's also has a super important message, as it tells the story of American founding father, Alexander Hamilton, during the revolution.
Other original cast members will be starring in the film, which was originally set to be released in cinemas in October 2021, including Leslie Odom Jr., Daveed Diggs, and Phillippa Soo, as well as Lin-Manuel himself. The show was filmed in New York's Richard Rodgers Theatre in 2016 over the course of three performances.
If you need us, we're definitely unavailable on July 3. Sorry, not sorry.
READ MORE: Disney+ face backlash after dropping Love, Simon series over "adult" content