Accio Harry Potter 8: Is "The Cursed Child" About To Be A Real Book?
28 January 2016, 13:20 | Updated: 8 May 2017, 17:09
Accio "Harry Potter and the Cursed Child"!
Is an eighth Harry Potter book upon us? Hold on to your time turners, friends, because we might be in for a revival. Sort of.
washable.com
Nothing has been made official just yet, but we are one step closer today than we were yesterday. On January 26th, The Rowling Library published a report stating that there's been some interest in turning the Harry Potter and the Cursed Child play into a printed piece of writing that you can hold in your hands and read with your eyes.
The report stated that two publishers are bidding for the rights to the West End play written, in part, by Queen Jo herself.
The report stated:
And there seems to be good news now. Our sources have informed that at least two publishers are trying to get the rights to publish the script play. Remember it is not a J.K. Rowling's work, given the play is written by Jack Thorne and he will probably be listed as the author – which is an important fact to be considered in the negotiations. This is all we know so far – but two publishers negotiating to get the publishing rights is a good sign and almost a confirmation that we will have Harry Potter and the Cursed Child published as a book. We have been asked to keep the name of the publishers to ourselves.
So natch, we instantly started doing the Potterhead math:

Play + Publisher = Book
Book + Jo Rowling = EIGHTH HARRY POTTER BOOK
FINAL CALL. THE HOGWARTS EXPRESS IS LEAVING THE STATION.
Ok, no.
We're probably getting ahead of ourselves. As MuggleNet noted, a bid from a publisher doesn't necessarily mean the book will ever see the light of day. And even if it did, there's no guarantee that JKR would be the one to do the rewrite. Jo is yet to say anything about the maybe-possibly-not-really-confirmed book.
After all, she has that Fantastic Beasts trilogy and multiple other projects on the go. Also, there's always Pottermore for all her HP-related word vomit and we, her royal subjects, are more than willing to read it there.
But we can still dream.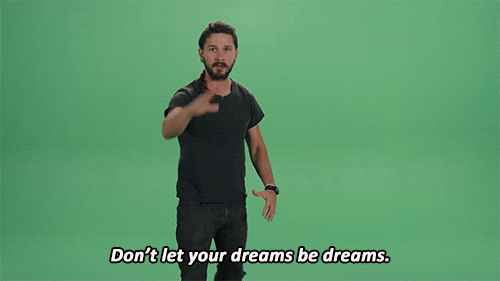 giphy.com