Apparently THIS Is How Cersei Will Die On "Game Of Thrones"...
20 July 2017, 10:43 | Updated: 20 July 2017, 11:03
How do you say "Consider me shook" in high Valyrian?
Don't know about you but we're still trying to process everything that happened in the season premiere of Game Of Thrones - including that completely wild Harry Potter reference that may or may not have been thrown in on purpose. But amongst all the drama, there was one very important foreshadow that we bet you didn't even notice.
In episode one, we return to find that Jon and Sansa are being shown up by the eleven year old Lady Mormont up at Winterfell. Arya is being chirpsed by Ed Sheeran in the Riverlands and Daenerys just had her "Honey, I'm home" moment at Dragonstone.
When we arrived back in Kings Landing, we find that newly crowned Queen Cersei is having a bit of decorating done to her brand new war room. More specifically, she's having a massive map of Westeros painted on the floor so she can plot her enemies tragic demises.
But there was something VERY telling about where she stood on the and who was with her in the scene and it hints to her own fate.
HBO
Cersei is standing on the map with her brother (and lover - it's been seven years and it still ain't right, is it?) Jaime Lannister, who is now the Hand of the Queen.
Cersei is perched right a top 'The Neck' of Westeros and Jaime can be seen standing just south of 'The Fingers'. But… what has that got to do with the price of fish?
HBO
WELL… if you've been paying attention to the show, you'll know that Cersei was once told of a prophecy by a witch. And that prophecy proclaims she will have three children who will all die before her and that her own demise will come at the hands of the 'valonqar' (amongst a whole host of other things which have all come true.)
Valonqar means 'little brother' in high Valyrian, which might explain why Cersei absolutely HATES her little brother Tyrion. But Jaime is also younger than Cersei by minutes because she was born first.
Has their placement on the map registered in your brain yet? Cersei is standing on the NECK and Jaime on the FINGERS. Guys, if the foreshadowing comes true, Jaime is going to murder Cersei himself by strangling her.
How do you say "Consider me shook" in high Valyrian?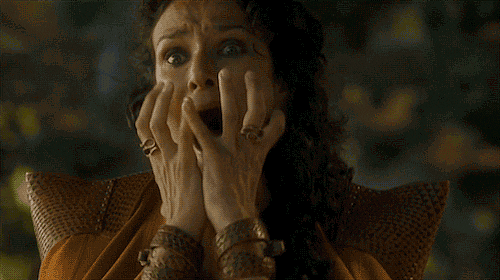 HBO
____ ____ ____ ____ ____
Listen to the #PopBuzzPodcast with Nick Jonas right here or subscribe for free on iTunes to get new episodes sent straight to your phone every Friday.