KJ Apa Might've Just Revealed What Happened To Fred Andrews On "Riverdale" And You're Gonna Scream
7 August 2017, 11:42 | Updated: 7 August 2017, 21:05
Does this mean Fred is... ALIVE? OR WHAT?!
Ever since the Riverdale squad descended on Vancouver to start shooting the second season of our new favourite TV show, all eyes have been on the cast's social media accounts to try and spot pictures of the-potentially-dead Fred Andrews (Luke Perry) alive and well on set. He was sneakily left out of the cast read-through selfie causing most of us to start panicking but then fans spotted him on set so panic over, we guess.
In an interview with fangirlish.com during San Diego Comic Con, ya bois KJ and Cole sat down to discuss what would happen to Archie in season two and more specifically, whether or not Archie would end up being shipped out of Riverdale to live with Mary if something actually happened to Fred.
We mean, we've been worrying about this exact scenario for months now. If Fred dies, Archie would have to MOVE AWAY TO CHICAGO. What's going to happen?
Well, the spoiler fairy seems to have cast her spell because as KJ answered the question, he may have sliiiiightly given away what actually happens to Fred.
The CW
In response to the question, he said: "Archie is always going to 100% stick by Fred, especially when he needs Archie. Fred's got no one else to look after him at home and stuff so... That also is a big part of season two is Archie pretty much aiding Fred, you know, whether he's - it's a tough situation because..."
No one else to look after him AT HOME? Archie pretty much AIDING FRED? Are you thinking what we're thinking? Later in the interview KJ backtracks on his comments by saying that "it's still unclear whether Fred lives or dies" but for NOW, it seems like Fred managed to survive his gunshot wounds and made it home to recover.
Guys, Fred Andrews is totally alive!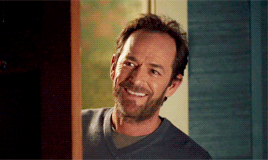 The CW
Of course, things could change, this is R I V E R D A L E after all. Fred - and the rest of the town - are not safe until the mysterious gunman, who will reportedly terrorise the town in season two, is locked up. But for now, it sounds like Archie won't have to suffer losing his beloved dad and will get to stay put in Riverdale where he belongs - and form a sweaty bromance with new Reggie.
So postpone your riots. The Fred Andrews fan club will resume on October 11th. See you there.
____ ____ ____ ____ ____
Listen to the #PopBuzzPodcast with Riverdale's KJ Apa right here or subscribe for free on iTunes to get new episodes sent straight to your phone every Friday.