Is John Cena A Secret Comedy Genius?
17 December 2015, 14:54 | Updated: 28 November 2018, 10:56
He's branching out in his career.
This is John Cena, wrestling legend and all-round nice guy.
That's gotta hurt.
He's been with the WWE for many years now and has always come across as one of the most awesome/ridiculous figures to ever grace the ring. So, of course, the internet has made him into their go to meme of choice. And that's no bad thing.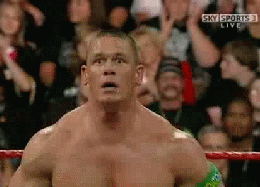 John has also made a nice living acting in movies on the side, starring in all manner of low grade action epics that require muscle clad beefcakes to seek Neeson-style revenge on terrorist villains with indistinct accents. But lately, John's movie career has taken a left turn. One of the unexpected highlights of Amy Schumer's hilarious Trainwreck, one of the movies of the year, was the scene-stealing work of John in a role early on as Amy's casual hook up buddy.
And, judging by this behind the scenes footage, the cast loved welcoming him into the fold, particularly when he started improvising:
Even when promoting the movie he was having fun.
Check out this sketch from his appearance on Late Night With Seth Meyers:
Well, John has clearly got a taste for comedy because he's at it again as a straight-talking drug dealer in Sisters, the new movie from Tina Fey and Amy Poehler and various other SNL alumni. And once again, he runs circles around all of his scene partners, whether doing Dirty Dancing style lifts or casually discussing safe words. In a cast of some of the biggest and best loved comedy pros in the game, Cena hold his own no problem.
Check out a preview of Cena's role below:
Go see Sisters in cinemas this Christmas and bask in the glory that is comedy hero John Cena.