Is Selling The OC scripted? Here's what the cast has said
11 September 2023, 20:57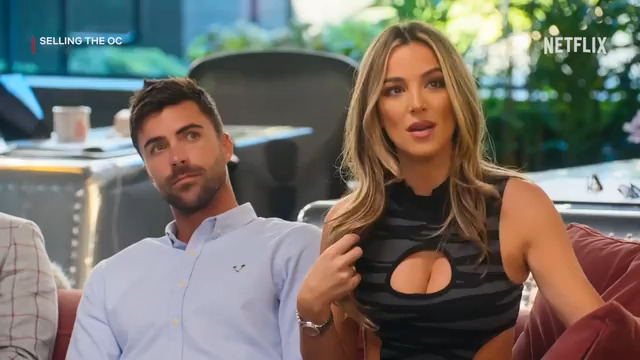 Watch the Selling The OC season 2 trailer
Yes, they're all actually real estate agents, and no, the show does not follow a script.
Like Selling Sunset before it, Selling The OC has been accused of being "painfully scripted". But just how true are those accusations? Is it actually fake? Are the situations and storylines real or have they been cooked up producers?
Season 2 of Netflix's spin-off of the popular real estate franchise has just dropped on the platform, bringing a whole host of fresh new drama to the table. Rose and Jarvis? No longer besties! Tyler and Alex Hall? Making out in the hot tub! Polly? Just as chaotic as ever.
As everyone surely knows by now, while most of the storylines across the two shows are real, a lot of it is also heightened and sensationalised. Here's what the cast of the Selling Sunset/OC franchise have said about how true the show actually is.
READ MORE: Selling Sunset's Chrishell Stause exposes Nicole Young with text screenshots amid feud
The cast of Selling The OC haven't directly addressed any of the questions about whether or not the drama and storylines on the show are fake. However, the cast of Selling Sunset have spoken about what's really real, and what sometimes might be a little heightened for the show.
The bottom line? Yes, they're all actually real estate agents, and no, the show does not follow a script.
In an interview with Metro, Jason Oppenheimer elaborated: "At most, I would say that in some situations, if some things need to be addressed or we're meeting a client or something, we'll be asked to wait to make sure if we get everything on camera, but that's certainly not scripted."
He added: "Let's say I have to deal with something or speak with Davina about something or Mary has to go get her wedding dress, we might have to put that off for a day or two to make sure we get it on camera, but we're never told to say or do anything unfortunately."
Christine Quinn, on the other hand, has called out Selling Sunset in the past for "fake" storylines. In her last season on the show, she claimed one scene involving Jason, Mary and a meeting she was supposed to attend was 'faked'.
When asked by a fan why she didn't go to the meeting, Christine said: "Cause the meeting wasn't real. Lolzzz".
In response to the bribery storyline that was linked to her in season 5, Christine replied to another fan: "Omg bless your heart you actually think the show is real."
So, there you have it: While two shows are not scripted, certain situations and happenings are sensationalised to make more interesting viewing for people watching at home.
Read more about Selling Sunset and Selling The OC here:
Olivia Rodrigo vs. 'The Most Impossible Olivia Rodrigo Quiz' | PopBuzz Meets