This Actress Wants To Play Adult Bev In 'IT: Chapter Two' & It's Perfect Casting
7 November 2017, 11:47 | Updated: 7 November 2017, 11:53
Sophia Lillis will return as the child version of the only female member of The Losers' Club - but who will be portraying the grown up years?
With IT, the movie adaptation of Stephen King's classic novel, proving to be the horror hit of the summer, it was inevitable that a sequel would get the greenlight, and so it was swiftly announced that IT: Chapter Two will be arriving in 2019.
As the first movie only focuses on the childhood years of The Losers Club, part 2 will adapt the remainder of King's book which features the lead characters reuniting as adults to take on Pennywise as he returns to Derry 27 years later.
Warner Bros
The child stars of the movie were previously asked about who they would love to see play their onscreen counterparts, with Sophia Lillis selecting Jessica Chastain as the perfect Bev.
And it would appear that Jessica agrees, discussing the idea in a new interview with ScreenRant:
"Well, I love Andy (Muschietti, director) and Barbara (Muschietti, producer). I worked with them on Andy's directorial debut, you know, his film, 'Mama'. His first film. And you know, Barbara is one of my best friends so…We'll see...Listen, of course, I want to work… they're my friends. They're like my family. Anything that they're doing I want to be a part of, so I hope we can make it happen."
Sounds to us like discussions may already be underway!
Fandango
No word yet on who else may be being lined up for roles in the horror sequel but Finn Wolfhard's choice of Bill Hader as Richie seems about as perfect as you can get doesn't it?
At least we know one guy who will definitely be appearing and that's Bill Skarsgård in his incredible performance of Pennywise the Dancing Clown.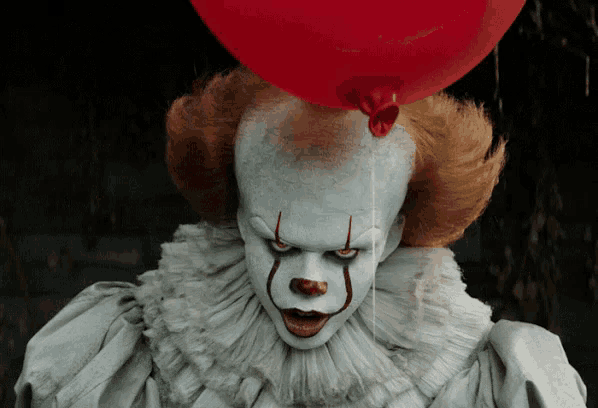 Warner Bros
Still scary tbh.
Meanwhile, Warner Bros announced yesterday that they have begun their Oscar campaign for the movie, submitting all the major acting talent for potential nominations and organising screenings for voters that will take place over the next few months.