Here's Where You've Seen All The Kids From 'IT' Before
21 September 2017, 16:56 | Updated: 21 September 2017, 17:10
The Losers' Club have a strong mix of movies between them, including one HUGE role in a superhero epic...
The young cast of It, the hugely successful Stephen King adaptation breaking box office records worldwide, look set for some HUGE movie careers after their excellent performances as the various members of The Losers' Club.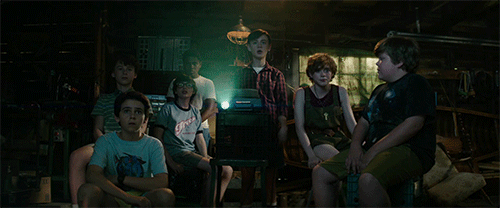 Warner Bros
But many of the kids had already had major roles in film and TV before shooting started on the tale of Pennywise.
Finn Wolfhard was of course known for Stranger Things and Chosen Jacobs is a series regular on Hawaii Five-O.
However, one previous acting credit of The Losers' Club members had us genuinely shaken to our nerdy Marvel-loving core.
Yes, we cannot believe we hadn't realised that Wyatt Oleff, who plays Stanley in It, was also the younger version of Chris Pratt's Peter aka Star Lord in Guardians Of The Galaxy!
Marvel, Disney
Mind. Blown.
Wyatt also returned in Guardians Of The Galaxy 2 during a brief flashback sequence. Will he appear in Avengers: Infinity War too? Probably not, but ya never know...
And he's not the only one with a Marvel connection - turns out Jeremy Ray Taylor, who plays Ben, was also in Ant Man as a bully (although annoyingly we can't find the footage anywhere. Dammit).
Check out what some of the other It kids were up to before Derry in the video below: