People Want "IT" To Add A Trigger Warning For This One Controversial Scene
18 September 2017, 12:32
The subplot between Beverly and her abusive father has been causing some viewers to suffer major anxiety and panic attacks.
A tumblr message about It has gone viral after it warned victims of sexual assault about a potentially triggering moment in the movie.
Some readers may find details of these scenes upsetting.

A message posted to the site on September 10th points out that some scenes involving Beverly's abusive relationship with her father could prove disturbing for certain viewers who should know ahead of time: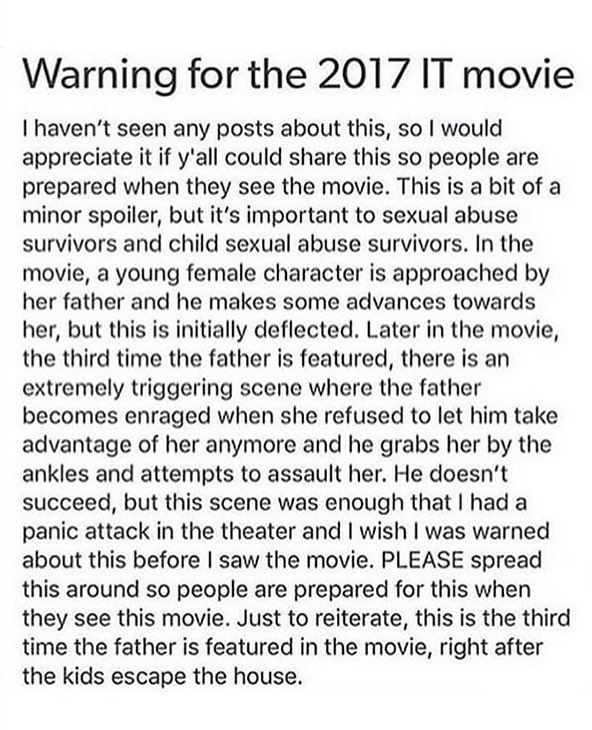 tailless-whale.tumblr.com
The note soon spread to Twitter with some tweets getting over 6000 RTs with lots of positive responses from viewers who felt the same way, including survivors of abuse. While no sexual abuse is shown on screen, each scene between Beverly and her father heavily implies that she has suffered in the past, including the scene described in the note above which features an attempted assault.
Interestingly, the British Board Of Film Classification description of the movie, which lists details of themes and scenes as a guideline to potential viewers, describes this plotline as a "a physically abusive parent/child relationship" but neglects to mention the implied sexual abuse overtones. Perhaps a more direct description would have been helpful in this particular case.
This isn't the first time a trigger warning has been requested retroactively by viewers, with Netflix adding additional messages before episodes of 13 Reasons Why that showed graphic scenes of suicide after a public outcry earlier this year.
What do you guys think? Should movies make it more obvious to viewers beforehand if this kind of material is included? Let us know over in the Facebook comments.