Jacob Elordi reveals real height after 'lying' to get acting jobs
31 July 2020, 13:04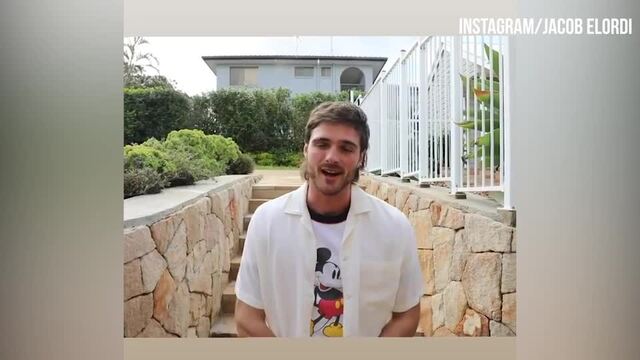 Jacob Elordi thanks The Kissing Booth fans for "changing his life"
The Kissing Booth and Euphoria actor said that people told him he was "too tall" to act before The Kissing Booth.
Jacob Elordi has just confessed that he's actually much taller than the height he's been telling people in the past to get jobs.
Jacob Elordi is one of the most successful actors of his generation. Ever since he played Noah in The Kissing Booth in 2018, people have fallen in love with him. Fans can't get enough of his good looks, charm and talent. His performance as Nate in Euphoria received widespread critical acclaim and he's about to star in a thriller called Deep Water alongside Ben Affleck.
READ MORE: Jacob Elordi looked at old photos with Joey King for emotional scenes in The Kissing Booth 2
However, in spite of his achievements, Jacob has revealed that he was extremely insecure about his height at the start of his career. Not only that but he just let slip that he's been lying about his real height after being told he was "too tall" to act.
How tall is Jacob Elordi really?
In a recent video with GQ, Noah said: "I used to be so sensitive about my height. Because when I first started acting, literally everybody would tell me that I'd never work because they wouldn't be able to partner me with people, and they wouldn't lift the camera up high enough. I basically got told that I was too tall to be an actor. So to all of those people... nice."
Jacob then explained: "So yeah I was super nervous about telling people my height. I used to try and pass for 6'2" or 6'3" but I'm actually 6'5". So online there's all different kinds of numbers. I've just sold myself out. Just because people hear 6'5" and they go like 'you're a giant' but if I stand next to someone who's 6'3", the difference is tiny."
So for those wondering Jacob is actually 6 feet 5 inches tall, and to all those who told him he was too tall, the joke's on you.
Jacob Elordi Goes Undercover on Reddit, YouTube and Twitter | GQ
Jacob also threw his The Kissing Booth character, Noah, some shade after someone asked him how they can be more like Noah. He said: "First of all don't be like Noah Flynn. I wouldn't want to be like that in real life." Jacob previously described Noah as "awful" in an interview with The Hollywood Reporter.
Elsewhere, Jacob revealed that he would love to play Batman one day while dissing all other superhero movies. He said: "I love Batman. A huge batman for. Batman is the one superhero thing that I actually have time for and enjoy." Essentially, don't expect Jacob to show up in the MCU anytime soon.