Is Lionel Dahmer still alive? Here's why Jeffrey Dahmer's dad thinks he became a killer
29 September 2022, 14:38 | Updated: 29 September 2022, 19:23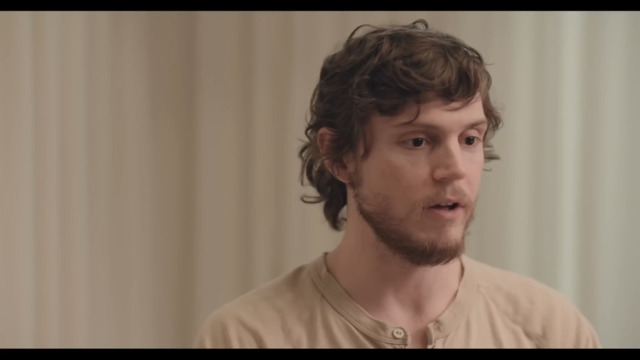 Evan Peters opens up about playing Jeffrey Dahmer
Jeffrey Dahmer's father Lionel has shared his theories on why he thinks Dahmer became a serial killer.
As well as focusing on the 17 victims of Jeffrey Dahmer, Netflix's DAHMER - Monster: The Jeffrey Dahmer Story takes time to focus on Dahmer's father Lionel Dahmer, and shows various moments from his perspective.
Since Dahmer's 1991 arrest, the real Lionel Dahmer has not shied away from speaking about his son or his horrific crimes, and has taken part in several high profile interviews.
READ MORE: Jeffrey Dahmer survivors: Here's what happened to Ron Flowers and the men who survived Dahmer
In those interviews, Lionel often spoke about the red flags and the signs that he wished he paid more attention to when Dahmer was younger, and has also tried to offer explanations into why Dahmer became a killer.
Those topics are briefly touched upon in the Netflix series, but here's what he said in real life, and where Jeffrey Dahmer's father is now.
What happened to Jeffrey Dahmer's dad, Lionel Dahmer?
In the Netflix series, viewers see Lionel Dahmer (played by Richard Jenkins) speculate about why Dahmer behaved, acted and carried out the murders in the way he did, adding that he believed it was because of the medication taken by Dahmer's mother Joyce.
In reality, the real Lionel Dahmer made similar comments in various interviews over the years, including in an interview with CBS Inside Edition, where he said: "My ex-wife had been taking about 26 tablets of different medications about one month after becoming pregnant."
In 1994, a few months before Dahmer was killed in prison, Lionel wrote and released a book called A Father's Story, where he dives into the complicated feelings he has towards his son. Again, he speculates that the reason Dahmer was the way he was, was because of the medication Joyce Dahmer took when she was pregnant with him.
In another 1994 interview with Oprah Winfrey, Lionel added that genetics and environmental factors may have been part of the cause: "I considered all kinds of things. Was it environmental; genetic? Was it, perhaps, medications that were taken at the time of — you know, in the first trimester? Was it the effect of, you know, the popular subject now, media violence?"
READ MORE: Evan Peters watched a chilling Jeffrey Dahmer interview to prepare for the role
Why did Lionel Dahmer do so many interviews about Jeffrey Dahmer?
Explaining to Larry King in a 2004 interview about why he continued to do interviews about Dahmer, Lionel said: "I really want to tell parents about what I think they should look for in rearing their children. One of the things I'd like to tell parents is don't disregard shyness. Talk deeply and intensely."
Lionel confessed that he and ex-wife Joyce actually had no idea about young Dahmer's obsession with dead animals and road kill. The Netflix series appears to make it seem like Lionel knew about his morbid fascination.
Did Lionel Dahmer visit Jeffrey Dahmer in prison?
Yep. As viewers see in the Netflix series, Lionel visited Dahmer in prison. The depiction of those visits were true to life.
After Dahmer's real life arrest in 1991, Lionel said that he and his son had actually grown closer. Lionel would visit Dahmer in prison frequently, and speak to him on the phone constantly.
After he was bludgeoned to death in prison in 1994, Lionel said: "When I find out that Jeff was murdered, it was just devastating. It affected me very gravely."
Is Lionel Dahmer still alive? Where is he now?
Since Dahmer's arrest, Lionel Dahmer has taken part in countless interviews and has spoken at length about Dahmer. Lionel's most recent interview was in 2020, when he appeared in Investigation Discovery's Jeffrey Dahmer: Mind of a Monster. But over the past few years, Lionel has now appeared to move away from the public eye.
As of 2022, it's believed that Lionel is still alive, and living with his wife Shari (played by Molly Ringwald in the series). Lionel is now around 86 years old.
Read more about Netflix's DAHMER here:
Drag Race UK's Just May Claps Back At Danny Beard's Shady Remarks | Drag Race Yearbook