Jeffrey Dahmer's grandmother: The horrifying true story in Netflix's DAHMER
22 September 2022, 21:19 | Updated: 23 September 2022, 09:22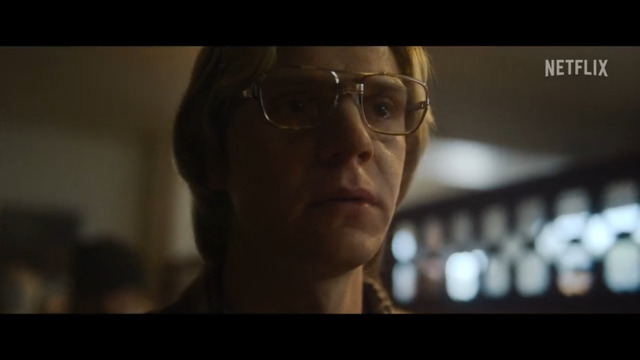 Evan Peters stars as Jeffrey Dahmer in Netflix's new Monster series
Did Jeffrey Dahmer kill his grandmother? Did she know about his murders? Netflix's DAHMER retells the horrifying story. [CW: Extreme violence, sexual assault]
CONTENT WARNING: This article contains details of extreme violence and sexual assault that some readers may find triggering and disturbing.
Netflix's DAHMER – Monster: The Jeffrey Dahmer Story is sitting firmly at the top the Top 10 charts, and viewers can't stop talking about how the series is the "most disturbing" true crime show they've ever seen.
From Dahmer's twisted killings to the shocking way in which survivor Tracy Edwards was able to finally put an end to his homicidal spree... Viewers also can't believe the true story involving Dahmer's grandmother either.
Episode 2 introduces viewers to Catherine Jemima Hughes, Dahmer's grandmother. After being discharged from the military, Dahmer moves back home to Ohio to live with his father and stepmother. He then moved in with his grandmother in Wisconsin. After a few years, he began his killing spree again and Dahmer's grandmother's house became the location of several of the murders.
DAHMER - Monster: The Jeffrey Dahmer Story retells the horrifying things Dahmer did to his victims at his grandmother's house in real life, completely unbeknownst to her.
What happens to Jeffrey Dahmer's grandmother?
How many victims did Jeffrey Dahmer kill at his grandmother's house?
In episode 5, we see Dahmer's confession while he's in police custody - he killed three men in his grandmother's house.
He also brought one victim back to the house to dispose of their body. The Netflix series also shows how Dahmer frequently brought men back to his grandmother's house (with the intent to murder them), and how some managed to make it out alive thanks to his grandmother's concern.
Steven Tuomi was the man that Dahmer killed at a hotel, and brought back to his grandmother's house in a suitcase. He slowly disposed of his body in the trash over a series of weeks but kept his head.
Another boy, James Doxtator, was killed in the house and his body was left in the basement for a week before he dismembered him. A second young man, Richard Guerrero, was killed and dismembered at the house. A third man, Anthony Sears, was also killed at the house. Dahmer kept his head and genitals. Dahmer disposed the rest of their bodies in the trash.
Did Dahmer's grandmother know about the murders?
It's believed that Dahmer's grandmother did not know anything about what her grandson was doing. Although, Dahmer suggests that she had her suspicions.
In the Netflix series, we see Dahmer give several false reasons when she questioned why there was such an awful smell coming from the basement. He lied and said it was his "taxidermy stuff", and that there was a "dead racoon under the back porch".
After growing tired of Dahmer's behaviour and his continuous interactions with young men in her house, Catherine forced him to move out in 1988. He returned briefly, before leaving for good in May 1990.
Did Jeffrey Dahmer kill his grandmother?
Given Dahmer's horrifying crimes, viewers are now wondering if he ever hurt or killed his grandmother. The answer is no, Dahmer's grandmother was not one of his victims.
According to various online reports, Catherine passed away in 1992 at the age of 88, shortly after Dahmer was sentenced to 16 life terms – 941 years – in prison for the murders.
Read more about Netflix's DAHMER here:
Rina Sawayama Reacts To "Industry Plant" Rumour and Paints A Self-Portrait | PopBuzz Meets