Jeffrey Dahmer Halloween costumes banned from being sold on eBay
20 October 2022, 12:41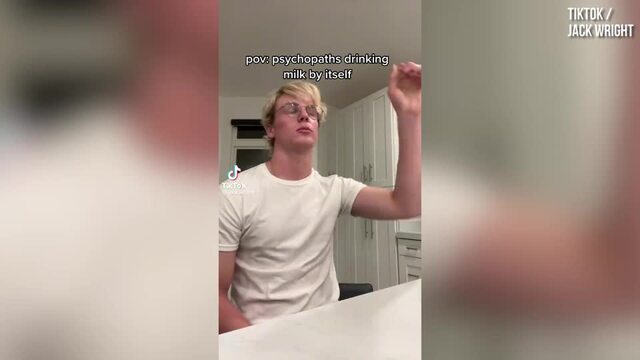 Jack Wright faces backlash over Jeffrey Dahmer TikTok
eBay confirms that they are removing listings that include items relating to Dahmer as they violate the company's policy on violence and violent criminals.
Following the horrifying trend of people dressing up as serial killer Jeffrey Dahmer for Halloween, which has been spurred on by the popularity of the Netflix series Dahmer, eBay has now banned the sale of items relating to Dahmer costumes.
Over the past few weeks, TikTok users in particular (including TikTok star Jack Wright) have already been slammed for dressing up as the killer on the app. Now, various brands and online marketplaces like eBay are doing what they can to stop people selling and buying Dahmer fancy dress costumes.
A spokesperson for eBay confirmed to BuzzFeed News that the site was actively removing any listings that advertise items relating to Dahmer Halloween costumes.
In their response, eBay said that these items were "prohibited", as they appear to violate their policy on violence and violent criminals.
As BuzzFeed News reports, eBay's policy states that sellers are banned from listing items that "promote or glorify violence".
The policy reads: "Listings that promote or glorify violence or violent acts, or are associated with individuals who are notorious for committing violent acts, are not allowed."
In a more specific list of things that are prohibited, it adds that "Items closely associated with or that benefit violent felons, their acts, or crime scenes within the past 100 years".
That said, there still are a few active listings on the site at time of writing, with people selling 'Jeffrey Dahmer inspired glasses'. A 'Jeffrey Dahmer mask', featuring Evan Peters' face from the Netflix series is also still available to buy on the site.
The worrying Dahmer Halloween costume trend has even prompted responses from the family members of some of Dahmer's victims.
Shirley Hughes, the mother of the murdered Tony Hughes who was featured heavily in the Netflix series, told TMZ: "It hurts for Netflix and all the online stores to profit off [my] son's death, while none of the victims' families have seen a dime."
She added that she "feels all the eBay ads should be taken down ... or at the very least, give the profits to the families."
Hughes then blamed Netflix for the overwhelming and upsetting surge in interest surrounding Dahmer's murders: "If Netflix hadn't streamed the show, none of the families would be re-victimized ... and then there'd be no Dahmer costumes this year."
Read more about Netflix's DAHMER here:
Drag Race UK's Sminty Drop Reacts To 'Sad Twerk' Exit Going Viral | Drag Race Yearbook