Where is Tracy Edwards now? Jeffrey Dahmer survivor's real life story revealed
28 September 2022, 16:29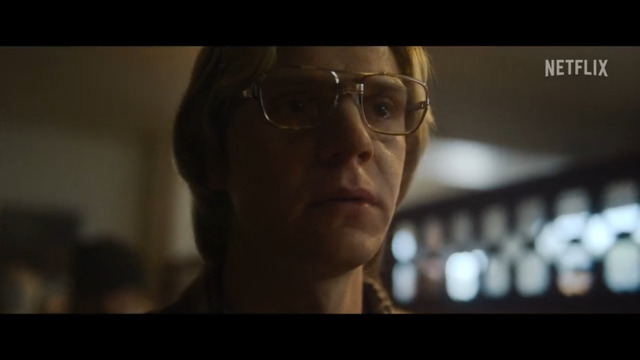 Evan Peters stars as Jeffrey Dahmer in Netflix's new Monster series
What happened to Jeffrey Dahmer survivor Tracy Edwards? Here's what happened to the man who escaped the serial killer. [CW: Extreme violence, sexual assault]
CONTENT WARNING: This article contains details of extreme violence and sexual assault that some readers may find triggering and disturbing.
Netflix's new limited series DAHMER – Monster: The Jeffrey Dahmer Story has viewers horrified and devastated over the real life stories of the victims of the serial killer.
The series – starring Evan Peters as Dahmer – does not aim to focus on Dahmer himself, but instead focuses on his victims, the failings of the Milwaukee police and all the other factors that played a role in the reason why Dahmer's spree was able to continue for so long.
The first episode of DAHMER shows viewers what happened on the night he was finally caught and arrested, through the eyes of Tracy Edwards. Tracy is the real life man who escaped Dahmer alive and led the police to his apartment. His actions resulted in Dahmer's arrest in 1991.
But where is he now? And what happened to him after Dahmer was finally convicted? Here's what we know about the real Tracy Edwards today.
READ MORE: Jeffrey Dahmer survivors: Here's what happened to Ron Flowers and the men who survived Dahmer
What happened to Jeffrey Dahmer survivor Tracy Edwards and where is he now?
How did Tracy Edwards escape Jeffrey Dahmer?
The first episode of DAHMER - Monster: The Jeffrey Dahmer Story dramatises the real events that lead to Dahmer's eventual arrest in 1991, all thanks to Tracy Edwards.
Tracy was picked up by Dahmer at a bar, and was then invited back to his apartment. While Tracy assumed it was a hook up, Dahmer was, of course, intending to murder him.
In the episode, we see Dahmer invite Tracy inside before locking the doors. Tracy notices the strange smell and attempts to leave, but Dahmer reacts and the situation begins to escalate. He handcuffs Tracy while he was distracted by the fish tank, and later threatens him with a knife. Tracy ends up playing along in order to keep Dahmer calm and plot his escape. The two enter the bedroom where Dahmer puts on a movie and sits down on the bed before laying down on Tracy's chest and telling him he wants to eat his heart.
As soon as Dahmer lets his guard down, Tracy punches him and manages to escape the apartment. He ran out into an alleyway where he was found by police. Tracy then led the police back to Jeffrey's apartment, who eventually made their way inside to investigate and ended up discovering the extent of his horrific murders.
Tracy, who would have been Dahmer's next victim, was the man who finally ended Jeffrey Dahmer's spree.
The episode details the real Tracy Edwards' account given in court during the Dahmer trial in 1992, which you can also watch on COURT TV's YouTube account.
Where is Tracy Edwards now? What happened to him?
After his encounter with Dahmer, Tracy Edwards was hailed a hero after ending the horrifying spree of homicides committed by Dahmer, specifically targeting men and young boys of colour.
After Dahmer's arrest in 1991 and his conviction in 1992, Tracy ended up getting into serious trouble with the law himself. According to ABC News, he faced several police charges including theft, drug possession, property damage, and failure to pay child support.
Almost twenty years to the day Dahmer was arrested, Tracy was charged with homicide in 2011. He was one of two men who were arrested on suspicion of throwing a man to his death from a bridge. Tracy spent a year and a half in prison, and two years of extended supervision, for his role in the death of Jonny Jordan.
At the time of his arrest, aged 52, Tracy was unhoused and had been moving from shelter to shelter since at least 2002.
It's currently unknown what the real Tracy Edwards is doing now.
WI v. Jeffrey Dahmer (1992): Victim Tracy Edwards Testifies
Who plays Tracy Edwards in Dahmer - Monster: The Jeffrey Dahmer Story?
Shaun J. Brown portrays Tracy Edwards in the Netflix series. Shaun's most recent on-screen credits include Hulu's The Dropout, where he played Daniel Young, and Showtime's American Gigolo, where he appeared as Chris Shannonhouse.
Read more about Netflix's DAHMER here:
Rina Sawayama Reacts To "Industry Plant" Rumour and Paints A Self-Portrait | PopBuzz Meets