The Internet Is Preparing For JK Rowling's Death And She's Really F*cking Creeped Out By It
9 February 2017, 18:00 | Updated: 8 May 2017, 17:09
Harry Potter fans may have taken things too far this time.
It's nice to know you'll be missed when you eventually pop your clogs. But being faced with a worryingly detailed plan of how someone will mourn your death might be just a little too morbid to handle, as Harry Potter author J.K. Rowling discovered last night.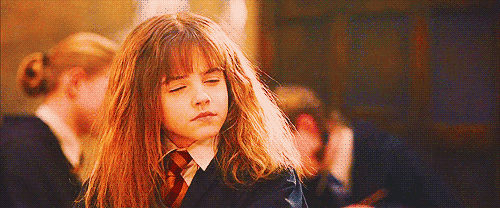 GIPHY
The writer found herself tagged in an well-meaning but super creepy Twitter meme about how the world will respond to her passing. But this wasn't any ordinary meme. Oh no. We're talking a full-on, military-precision mourning plan, written by someone who clearly thinks about Rowling's death a lot. The sort of thing that's probably been written about the Queen. It reads:
"One day in the middle of my life, the news headlines will be, "J.K. Rowling died today. My children won't fully understand why I left the room crying, or why I picked up a book titled, 'Harry Potter'. Millions will pull out old toy wands. Cloaks and round rimmed glasses will be dusted off. Wands lit they will take to the streets, holding them high. From speakers and phones, 'Hedwig's Theme'. Hogwarts will come back to life as a new generation is introduced to 'The boy who lived.'"
Obviously, poor Rowling was a little freaked out by such a lengthy and convoluted reminder of her own mortality.
She took to Twitter to remind fans not to tag her in posts about her death. Which really should go without saying.
This is very sweet, but I won't be offended if you untag me when making plans for my death. pic.twitter.com/LfLSTuTxQO

— J.K. Rowling (@jk_rowling) February 7, 2017
But it didn't stop there. As soon as Rowling said she didn't want to see people talking about her death, the internet, in all it's chill-free glory, began talking about her death.
@jk_rowling this tweet is gonna blow up when you die

— kill me pls (@BlueRayyne) February 7, 2017
Yes, let's talk more about when I die. It's cheering me right up. https://t.co/o8qrudMvW0

— J.K. Rowling (@jk_rowling) February 7, 2017
@jk_rowling we've got your obit on file, if you want a read...

— David Clegg (@davieclegg) February 7, 2017

This one's a little kinder, even if it is a barefaced lie (sorry J.K.)
@jk_rowling You will never die!

— Elizabeth Crow (@Freaky_Lilly) February 9, 2017

The creepiest part of it all? We probably all will do every single thing the meme foretold, down to the very last raised wand #sorrynotsorry
GIPHY