Everyone is thirsting over Josh Hutcherson speaking Spanish in this Five Nights at Freddy's promo
2 November 2023, 12:56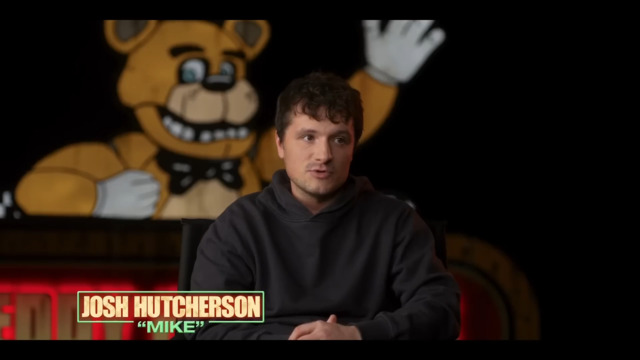 Josh Hutcherson speaks Spanish in Five Nights at Freddy's promo
Josh Hutcherson fans are only just realising that he's fluent in Spanish!
A video of Josh Hutcherson speaking Spanish in a Five Nights at Freddy's teaser is going viral and the thirst is out of control.
For years, Josh Hutcherson has been the internet's boyfriend. The former child star first became an international heartthrob when he was cast as Peeta Mellark in The Hunger Games and people have been obsessed with him ever since. Not only is Josh, kind-hearted and charming but he also continually uses his platform for good and is a vocal LGBTQ+ ally.
Now, Josh is having a renaissance of sorts with his starring role in Five Nights at Freddy's and fans can't get enough of him all over again. They've also just found out that he speaks Spanish fluently and people are truly in a shambles.
Is Josh Hutcherson fluent in Spanish?
For fans who don't know, Josh first began learning Spanish when he was cast in 2014's Escobar: Paradise Lost. Speaking to Entertainment Tonight at the time, Josh said: "I didn't know any Spanish so I had to learn." While filming the movie, Josh fell in love with his Spanish co-star, Claudia Traisac, and since then he's become completely fluent in Spanish.
To promote his new film Five Nights at Freddy's Josh has filmed an entire video in Spanish and fans are a) just discovering that Josh is bilingual and b) thirsting over the video and Josh's comeback in general. Here are just a few of the funniest reactions and thirst tweets so far.
1) We love a film that brings people together!
what I really like about the fnaf movie is that it brings together the most unexpected moments like if you told me in the past that people would be thirsting over Josh Hutcherson speaking Spanish in a Freddy Fazbear movie I would say fuck off no way https://t.co/3CrrJ6G4ux

— kip (@uorplefever) October 30, 2023
2) You learn something new everyday.
3) The jokes write themselves.
4) I mean, not no.
Spanish is the sexiest language in the entire world.

— azn_hyunnie (@azn_hyunnie) October 30, 2023
5) People don't know how to control themselves.
6) Whatever it takes!
7) It's a universal problem.
8) Yes!
9) Did I ever leave this era?
10) Academy Awards for all the thirst edits.
In conclusion, what a man!
Madison Beer Explains Every Song On 'Silence Between Songs' | Making The Album