Katherine Langford Defends The Controversial '13 Reasons Why' Suicide Scene
27 June 2017, 13:43 | Updated: 18 January 2018, 16:33
"It's not pretty, it's not romanticized, it's not a beautiful tragedy."
Earlier this year, Netflix gave us the thought provoking teen drama, 13 Reasons Why, about a girl named Hannah Baker and her tragic descent into hopelessness. Netflix also gave us Katherine Langford, the show's star, whose depiction of the troubled teen gripped audiences across the world.
When the show first aired, many people took issue with Hannah's very detailed death scene. We even wrote about the potentially harmful nature of showing that type of suicide in such graphic detail.
via Neflix/13 Reasons
Now, in an interview with Deadline, Katherine Langford has defended the controversial decision to show the scene in such detail.
"When we did the table reads, it felt like the right choice. I don't think there was ever a moment where we didn't want to show Hannah's suicide because that wouldn't have been staying true to the vision of the show. I felt like it would have sugarcoated the severity of the issue. It's not pretty, it's not romanticized, it's not a beautiful tragedy—it's agonizing, and it's physically painful to watch," she told Deadline.
Katherine also revealed that she consulted with mental health professionals while preparing for the emotional journey of Hannah's story.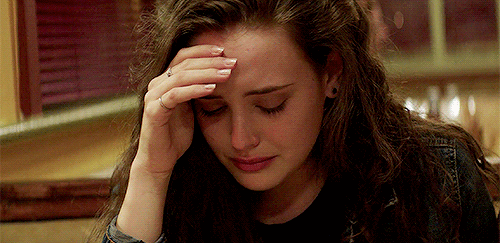 via 13 Reasons Why/Netflix
We take Katherine's point about the artistic integrity of the show. If that's the scene that producers had in mind when they wrote 13 Reasons Why, then it would be difficult to pull away from it for the sake of modesty.

That being said, 13 Reasons Why is a highly immersive show on a platform that is ubiquitous for binge watching TV for hours on end. Once you've spent hours with Hannah Baker and "bonded" with her through the show, there's no denying that the scene is quite jarring.
While Katherine believes that a softening of the scene would "have sugarcoated the severity of the issue" there is still a strong argument to be made for taking a gentler approach to something as visceral as this.
What do you guys think? Is Katherine Langford right about the integrity of Hannah's bathtub scene or was it too much?