KJ Apa Just Dragged Archie's Music Career And It's Low-Key True AF
23 October 2017, 11:51 | Updated: 23 October 2017, 14:45
Insert shady moon emoji here.
It is a known fact that the most questionable part of Riverdale is Archie Andrews' foray into the world of music. Throughout season one, we had to put up with Archie going semi-Troy Bolton on us, giving up his spot on the football team so he could bang his music teacher and sing some sad songs on stage at a school talent show. It was annoying AF and now, it seems like KJ Apa himself understands what we've all been going through...
KJ just called out his fictional counterpart on how bad his music and songwriting skills are and he said EXACTLY what we're all low-key thinking.
In case you didn't know, KJ is a very talented musician. You only have to take one glimpse at his Instagram stories when he's got a day off work to know how insane his guitar shredding skills are. (He'll be shirtless too if you're lucky.) But Archie's skills aren't as advanced as this...
In an interview with The Last, KJ spilled the tea on Archie's musical skills: "I don't know how to say it, but we're not at the same level, you know what I mean?"
"Somehow I have to say that in not a cocky way, but he's a beginner. Also, the songs that he writes, I don't think I would listen to them. I do not have the same taste in music as him."
So, basically what you're saying, KJ, is that Archie is a bit... shit? *shady moon emoji*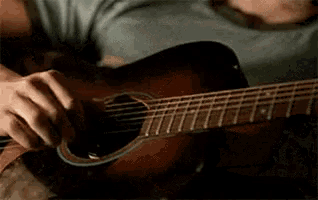 The CW
KJ also explained that he has to actually take a few steps back from his own level of skill in the guitar department when playing Archie because he's meant to be just starting out. Remember, Archie is only a teenager, there's still time to improve!
He also meant to no offence to the writers who actually penned Archie's sad-boy melancholic bops either, it's just that he's into much "harder stuff than Archie is." (Van Halen and Third Eye Blind, if you're interested.)
Archie Andrews, your solo performance on the main stage at Riverdale High left us feeling a little Riverdale low. You, my dear, are up for elimination.
____ ____ ____ ____ ____
Listen to the #PopBuzzPodcast with Stranger Things' Caleb McLaughlin and Noah Schnapp right here or subscribe for free on iTunes to get new episodes sent straight to your phone every Friday.