Kourtney Kardashian deletes Mason's Instagram after he posted about Kylie Jenner's private life
26 March 2020, 12:06 | Updated: 19 July 2022, 09:24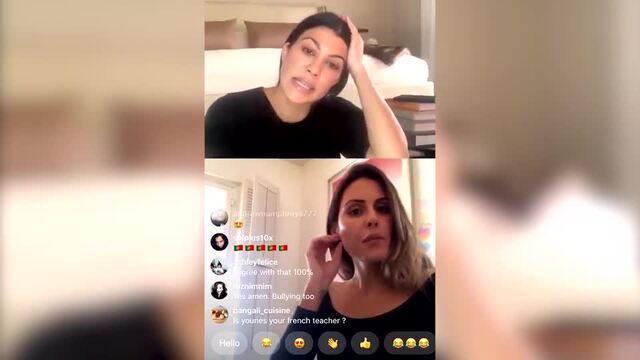 Mason Disick says that Travis Scott and Kylie Jenner are not back together on Instagram Live
Mason Disick went on Instagram Live and answered questions about Kylie Jenner and Travis Scott's relationship.
Kourtney Kardashian has made her 10-year-old son, Mason Disick, delete Instagram after he spoke about Kylie Jenner and Travis Scott on Live.
With people all around the world in lockdown due to the current coronavirus outbreak, many celebrities have been taking to Instagram to entertain us. Miley Cyrus has even launched her own Instagram Live series called Bright Minded in which she interviews celebrities from her home. Huge stars including Demi Lovato and Emily Osment have already appeared on the show.
READ MORE: Kim Kardashian Is Over Party trends after Taylor Swift says she was "framed"
However, it's not just celebrities who are getting on the Instagram Live action, some of their children are too. Unbeknownst to Kourtney Kardashian, her son, Mason, went on Instagram Live and he let slip some private details about Kylie Jenner's relationship with Travis Scott.
Yesterday (Mar 26), Keeping Up with the Kardashians fans noticed that Mason had set up his own Instagram account and he went Live and spoke with fans of the show. During the video, someone asked him if Kylie Jenner and Travis Scott were back together, since they've been spending lockdown together, and Mason said: "No. Kylie and Travis are not back together."
Naturally, it didn't take long before Kourtney found out that her son had dropped a Kylie Jenner exclusive on social media. And, she not only deleted his Instagram, but she also took to her own Live to explain how it even happened. Kourtney said: "He started an Instagram yesterday and didn't ask us."
She then revealed that he doesn't have a phone. "He has an iPad and a computer for his school."
Kourtney went on to say: "I did delete it because he's 10. I think there's an age limit with Instagram. I think it's 13. I think with Instagram the thing that really worries me with kids is comments. People can be really mean. It's really easy to get consumed with it."