Kylie Jenner Responds To Pregnancy Rumours For The FIRST TIME After "Bump" Pictures Leak Online
6 November 2017, 15:19 | Updated: 6 November 2017, 15:22
Kris Jenner is doing damage control as we speak.
Kylie Jenner has remained extremely tight lipped about all those pregnancy rumours. She hasn't hinted at anything, she hasn't teased anything, she's carried on sharing her life on social media (albeit a lot LESS than she did before) and she certainly hasn't made any sort of statement.
UNTIL NOW.
Yesterday, The Daily Mail published pictures of Kylie at an airport wearing an oversized black tracksuit claiming to show off her "pregnancy figure".
'Pregnant' sisters Kylie Jenner and Khloe Kardashian continue to stay mum on baby rumours https://t.co/SNZyq21uxi

— Daily Mail Celebrity (@DailyMailCeleb) November 6, 2017
Kylie caught wind of the article that allegedly claimed to show off her pregnancy body and snapped the FUCK back, claiming the photos had been retouched. It's also the first time she's ever publicly acknowledged the rumours.
First of all if you're going to photoshop my photos blogs/paps!! Check for the crooked lines in the background.2nd photo is clearly altered pic.twitter.com/c9fi0EyhWB

— Kylie Jenner (@KylieJenner) November 5, 2017
Kylie - and her fans - began pointing out inconsistencies on the photos. Namely the crooked lines on the cars in the background of the shots.
This was edited !!! Check the car line

— IG: @RenatoRego (@RenatoMRego) November 5, 2017
Here's the thing though, the photos look fuzzy and distorted because of the distance they seem to have been shot over, and the fact that they're on a airport runway. The heat from the jet, and the heat from the tarmac could have affected the shots, which in turn have made the lines on the car look crooked. The Daily Mail later confirmed the the photos had not been photoshopped.
Earlier in the day, Kylie also shared a full body of herself and sister Khloe on Snapchat. It's the first full length picture she's shared of herself since the news broke and she looks considerably smaller than she does in the paparazzi photos.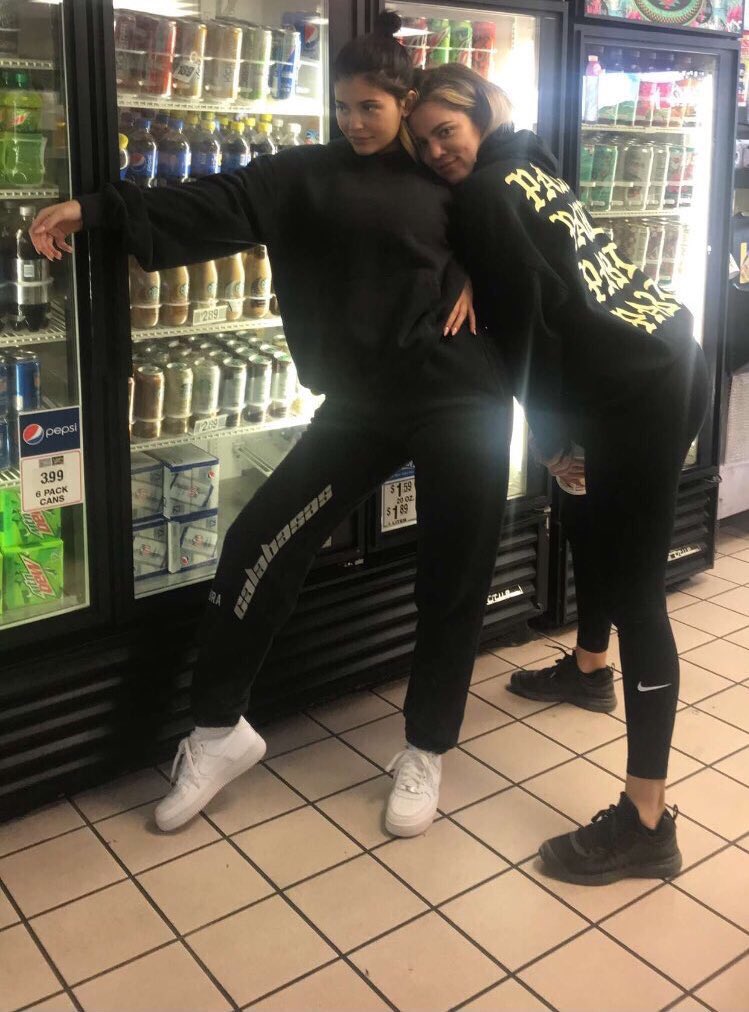 Snapchat: kyliejenner
So what's the truth dot gif? Is she pregnant? Is she NOT pregnant? Do you care? Why am I writing this? Who knows. But what we do know is, we might be getting answer to this riddle sooner rather than later. Kris Jenner has finally managed to persuade the family to get together this year to bring back the Kardashian Khristmas Kard. It's being speculated that both Kylie and Khloe will reveal their "bumps" in the snap to drum up some more publicity.
HONESTLY, THINK OF THE COVERAGE! It's a genius move. Well played, Kris. Well played. You, my Queen, deserve more than that measly 10% they're cutting you.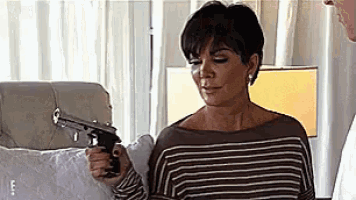 via giphy.com
____ ____ ____ ____ ____
Listen to the #PopBuzzPodcast with Camila Cabello right here or subscribe for free on iTunes to get new episodes sent straight to your phone every Friday.