You Probably Missed Lady Gaga In This New "American Horror Story" Promo
16 September 2016, 13:23 | Updated: 6 November 2017, 10:34
She is literally almost unrecognisable.
So, American Horror Story season six is finally here. We (sort of) think we know the theme. We already know that this is going to be the scariest season of all time. But there was a few key ingredients missing in the premiere episode that left us feeling a little sad.
Evan Peters was absent (yet again) for the first episode of the series - he did the exact same thing when Hotel aired. But he wasn't the only one who didn't get any screen time during episode one. Where was the good sis Lady Gaga? She made such a grand entrance as The Countess last season that we were half expecting her to rock up in a glamorous ball gown and rip everyone to pieces. Alas, she did not.
via giphy.com
But if you've been paying attention to the new episode promos, you might have caught your first glimpse at her new look.
Lady Gaga is hidden somewhere in this trailer. Can you spot her?
See what's coming next... #AHS6 pic.twitter.com/XLcvKKWHG2

— AmericanHorrorStory (@AHSFX) September 15, 2016
Did you find her? She's hiding behind Kathy bates around the 8 second mark. It's a real blink and you'll miss it moment.
via giphy.com
She looks so different! Well, that is if it actually IS her. It hasn't been confirmed by anyone just yet but thanks to her latest interviews, we're pretty damn sure that that's her.
While doing the rounds to promote her new single, Perfect Illusion, Stefani herself revealed that her latest character was very "grounded" and "in the earth." So, judging by the fact that her character looks like she hasn't ever even touched a shower, we're almost 100% sure that that is her and she is very much teamed up with the sh*t scary Kathy Bates this season. Consider us shook.
Sidenote: anyone else getting Suicide Squad Enchantress vibes from her whole aesthetic? Mmmm... interesting.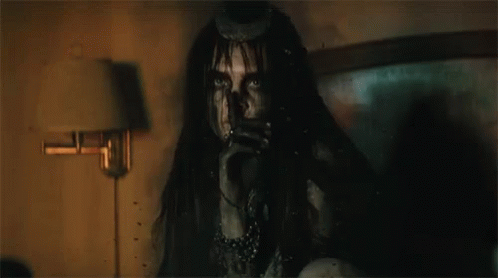 via giphy.com
P.s. Evan Peters didn't even feature in that promo tho so is there even much point in tuning in next week? No is the short answer. But we might reconsider if just to get a glimpse at Gaga's new aesthetic.