One Of Your FAVE Characters From "AHS: Asylum" Is Coming Back To "Roanoke" And OMFG!
31 October 2016, 17:15 | Updated: 6 November 2017, 10:36
IS THIS REAL LIFE?!
Who says good things don't happen on Halloween? Kids, some AMAZING news has just been confirmed and we can hardly contain ourselves - one of your favourite characters from the BEST season of American Horror Story is officially returning to the game.
It's not the first time characters from past seasons have popped up in other seasons. Last year, in AHS: Hotel, Queenie from Coven rocked up to the Cortez and managed to get herself murdered and Lady Gaga's Countess paid a throwback visit to the Murder House. But this latest crossover has got us GAGGING...
Ryan Murphy announced via Twitter on Monday (Oct 31) that the returning character will be none other than Asylum's Ms Lana Winters herself!
Sarah Paulson's ASYLUM ultimate survivor LANA WINTERS returns this season on "AHS: ROANOKE." Happy Halloween!

— Ryan Murphy (@MrRPMurphy) October 31, 2016
OH. MY. GODDDDD. LANA BANANA!!!!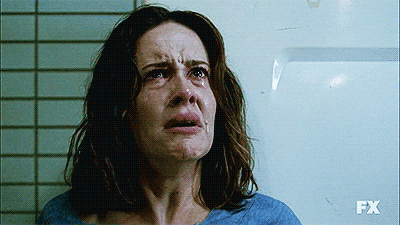 via giphy.com
No other details have been released so far. Will we be seeing old age Lana? Or flashback Lana? Will she scream? WHAT EPISODE WILL SHE BE IN?!
Wait - just how many characters is Sarah Paulson playing this season? Let's see... you've got Fake Shelby Miller, crap British accent Audrey Tindall and now the legendary Ms Lana Winters. We wouldn't be surprised if the whole thing turned out to be a fake show put together by Billie Dean Howard either. What if Cordelia Foxx shows up to have a word with Scathach in the forest? OMFG. This is too much.

See you at the Emmys where the nominees will be Sarah Paulson, Sarah Paulson, Sarah Paulson, Sarah Paulson and... oh, SARAH PAULSON.
via giphy.com
___ ___ ___ ___ ___
Listen to this week's #PopBuzzPodcast featuring The Chainsmokers right here on Soundcloud, or download for free from iTunes to get new episodes sent straight to your phone every Wednesday. You can also find us on AudioBoom or TuneIn - if that's what you're into.