Lena Dunham Has Joined "American Horror Story" But People Are Really Mad About It
20 July 2017, 15:56 | Updated: 6 November 2017, 10:27
Honestly NEVER saw this coming.
American Horror Story has just thrown the biggest plot twist of all time in our way with a casting that absolutely NO ONE saw coming - and not everyone is too pleased with it.
The cast for season seven looks a LOT different to what we've become accustomed to over the past six seasons. First of all, neither Kathy Bates nor Angela Bassett have been confirmed amongst the cast this year (yet) and we've welcomed a bunch of new faces including Billie Lourde, Billy Eichner, Leslie Grossman and Colton Haynes.
And now, in a plot twist we never saw coming, Ryan Murphy has announced that Lena Dunham will officially be joining the cast in an undisclosed role.
Thrilled that my talented friend Lena Dunham is joining the AMERICAN HORROR STORY family. Always wanted to work together, and now we r!

— Ryan Murphy (@MrRPMurphy) July 20, 2017
Like we said, there's no other information about her character so far but there seems to be a rumour floating around that she's only in one episode. And it totally makes sense for her to appear in the "political" season after being such a massive voice during last year's election campaign.
Despite not knowing a single thing about her role, fans of the show were NOT thrilled to hear the announcement and Twitter was flooded with a bunch of pretty harsh tweets...
We asked for a Coven 2, a Jessica Lange return, hell a season about the aliens from Asylum and what does Ryan give us? Fucking LENA DUNHAM pic.twitter.com/pXFfN2CiFr

— (@MADBLACKTHOT) July 20, 2017
They cancelled Scream Queens just to give us a Lena Dunham season of AHS pic.twitter.com/A5L5s4ELuJ

— la bella vita (@drugproblem) July 20, 2017
Me when I first heard about Lena Dunham being on AHS vs. coming to the conclusion that she'll die a gruesome death in the first episode pic.twitter.com/2679cjDcfk

— owen (@xowenm) July 20, 2017
Lena Dunham on AHS as if the show couldn't go anymore downhill ... sad

— nicky (@tropicocunt) July 20, 2017
I've watched every single #AHS, even when the episodes started getting corny af. What I'm NOT gon do is watch Lena Dunham ANYTHING. pic.twitter.com/LINmypOywD

— RiRi (@snarkNbb) July 20, 2017
is lena dunham rly gonna be on ahs..... i can't believe they finally figured out how to force me to stop watching entirety instead of hate

— (@rachelgoIdberg) July 20, 2017
Never one to shy away after receiving a bit of backlash, it appeared as though Lena responded to all the sh*tty tweets with an iconic salty comeback.
OMG Internet teens are way harsh, Tai. And also potentially too young to understand "way harsh, Tai." pic.twitter.com/mVujZRhqnM

— Lena Dunham (@lenadunham) July 20, 2017
There were of course bunch of supporters toward the casting who were intrigued to see what she could bring to the show too.
Critics literally hail everything Lena Dunham does, she might bring AHS back to life.

— sterling (@tohavenotohold) July 20, 2017
Supposed to be asleep but... celebrating the news that @lenadunham will be on #AHS is much more of a priority. Yes. Queen. Yes. #excited

— Toney (@heyimtoney) July 20, 2017
So excited to see what @lenadunham brings to the horror-table on #AHS7 @AHSFX

— Craig T. Flickinger (@MrHorrorPsychDT) July 20, 2017
Listen, it's not the Lana Del Rey cameo or Jessica Lange return we all deserve and hoped for but we for one can't wait to see what kind of twisted sh*t Lena and Ryan are going to cook up together. Bring it on tbh, our bodies are ready.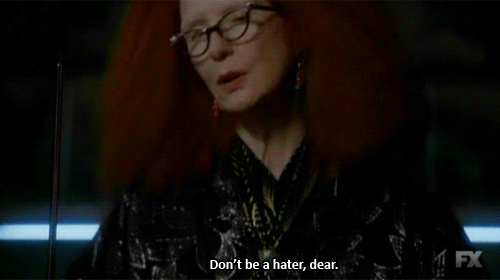 FX
____ ____ ____ ____ ____
Listen to the #PopBuzzPodcast with Nick Jonas right here or subscribe for free on iTunes to get new episodes sent straight to your phone every Friday.