The Trailer For The 'Little Mermaid' Live Action Movie Is Here And It's... Not What You Expected
10 March 2017, 11:51 | Updated: 8 May 2017, 17:09
This is NOT 'The Little Mermaid' live-action movie you were looking for.
The trailer for one of the many The Little Mermaid live-action remakes (not the good one) has just dropped and it looks... different. Very different.
If you came here looking for the glorious underwater all-singing, all-fishtail-flapping Disney live-action adventure then sorry sis, we're about to disappoint you.
By the looks of things, this *isn't* an adaption of the Disney classic we've come to know and love - THAT one is currently in the works elsewhere. This one seems to have a completely different storyline to the Hans Christian Andersen story and the general reaction hasn't been that great, tbh.
Deadline reports that "this take on the 1837 classic centers on a young girl and her older brother, a reporter, who travels to a small town in Mississippi to find a woman believed to be the real Little Mermaid." The film stars William Moseley (The Chronicles Of Narnia), Poppy Drayton (The Shannara Chronicles) and screen legend Shirley MacLaine.
Watch the trailer below and make up your own mind:
It looks like a cross between American Horror Story: Freak Show and Water for Elephants with a guy who looks like Dr Facilier from The Princess Frog and the Hogwarts Express thrown in for good measure. Oh, and it looks like there's some singing too.
To be fair, we DO love all of those things but we think we'll sit and wait patiently for Disney to deliver the goods.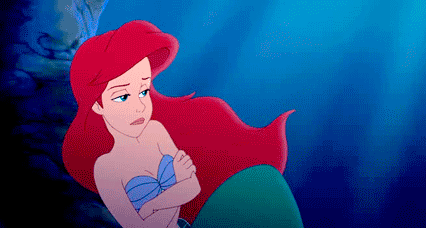 Disney / via giphy.com