You Legit Will NOT Be Able To Recognise Margot Robbie On The Set Of Her New Movie
22 August 2017, 15:03
"Jesus Christ they did it, they made Margot Robbie look unattractive..."
Everyone here is familiar with the legend that is the blonde-haired future-Oscar winning actress with a jawline for days Margot Robbie, right? The genius that brought Harley Quinn to life in Suicide Squad and also the genius who read Leo DiCaprio for filth in almost every scene in The Wolf Of Wall Street. Great, then let's proceed.
Margot has been spotted on the set of her brand new movie, Mary Queen Of Scots this week and honest to GOD, you will literally not even be able to recognise her. Now, she's done a fair few movie ~transformations~ in her time but this one... *is shook*
Apparently, so we're told by various fan accounts, THIS is Margot Robbie, who is currently portraying Elizabeth I opposite Saoirse Ronan in the upcoming 2018 film and we actually point blank refuse to believe it.
NEW: Margot Robbie was spotted in Gloucester today filming 'Mary, Queen of Scots' as Queen Elizabeth I. pic.twitter.com/ROFfkzx5BX

— best of margot (@badpostmargots) August 20, 2017
No, seriously, you expect the rest of us to believe that THAT is Margot Robbie!?! THEEEE Margot Robbie?!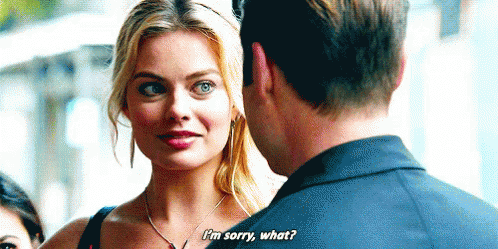 via giphy.com
Everyone is absolutely LOSING their minds over the makeover she's had for the role. (Let's just take a moment to applaud those make up artists because my god, what a transformation!)
i love ed sheeran

— best of margot (@badpostmargots) August 20, 2017
@GraceRieffel wtf she looks like Winnie from Hocus Pocus pic.twitter.com/bK1i8mPDZZ

— Lozza (@lozpaige_) August 21, 2017
August 20, 2017
Jesus fucking Christ they did it they made Margot Robbie look unattractive https://t.co/HIK7Yx24G3

— the good "alex" (@comicbookfilms) August 20, 2017
What I expected Margot Robbie to look like as Queen Elizabeth I vs the shit they're giving us pic.twitter.com/1VbnZbOsda

— CapNJam (@Geekamora) August 20, 2017
We for one are shooketh to the core. But one thing's for certain... Margot Robbie will take any gig you throw at her, disappear into the role and smash it into smithereens with her bare hands. Thank you, good day.
Warner Bros.
____ ____ ____ ____ ____
Listen to the #PopBuzzPodcast with Riverdale's KJ Apa right here or subscribe for free on iTunes to get new episodes sent straight to your phone every Friday.