Fans Are Calling Out "Stranger Things" Over THIS Scene Between Max And Lucas
3 November 2017, 14:15 | Updated: 7 November 2017, 16:45
"A director's job is to get the best performances from their actors AND make sure they feel safe and comfortable."
If you haven't watched Stranger Things 2 yet, turn away now because we're about to discuss the ending of the show and well, there's gonna be spoilerrrrrrs!
At the end of the season, the kids FINALLY get to go to Hawkins High's Snow Ball dance. In the scene, we get to see Mike reunite with Eleven, Nancy saving Dustin from spending the night crying on the bleachers, Will being asked to dance by some random fangirl and Lucas asking his crush Max to dance.
To be quite honest, that entire scene is the highlight of the whole season but there's one little thing that happened between Lucas and Max that fans can't quite seem to get on board with - their surprise kiss.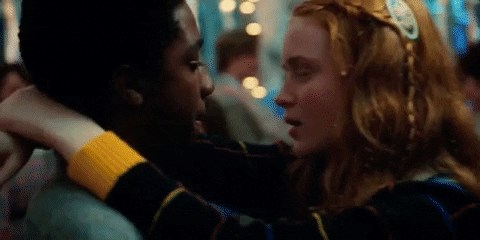 Netflix
In case you don't know, there's a 'behind the scenes' roundtable series called Beyond Stranger Things available on Netflix *right now* where the cast along with the Duffer Brothers and producer Shawn Levy discuss and dissect certain scenes. Topic of conversation turns to the Snow Ball scene, and the kisses between Millie and Finn, along with Caleb McLaughlin and Sadie Sink which, as it now turns out, wasn't even scripted.
At the roundtable, Sadie explains what happened: "The kiss was not written in the script. I get there the first day of filming the Snow Ball, me and Noah are walking in, seeing the decorations and stuff. One of you - I think it was you, Ross - you say like, "Ohhhh, Sadie are you ready for the kiss?" And I'm like, what? No! That's not in the script. That's not happening. So for the whole day, I was like stressed out and I'm like, wait and is it gonna happen is, is it not?"
Ross Duffer then explains that he was just joking about his comment the first time and that he didn't actually plan on making Sadie kiss Caleb, but her strong reaction to it made him change his mind, joking that it was ultimately her fault that the whole thing ended up happening.
Fans of the show are now taking to Twitter to air out their feelings about the uncomfortable situation it sounds like 15-year-old Sadie was put into.
The director, an adult man, saw that a teen girl was uncomfortable with a situation, which made him MORE EAGER to put her in the situation.

— Anna Marquardt (@ajlobster) October 31, 2017
A director's job is to get the best performances from their actors AND make sure they feel safe and comfortable.

— Anna Marquardt (@ajlobster) October 31, 2017
Now can we talk about the Duffer Brothers putting Sadie Sink in a situation in which she felt obligated to kiss another actor unnecessarily? https://t.co/gf67vOpvZd

— Competitive Taco (@DevinAshWhitten) October 30, 2017
I think it's kind of gross that Sadie Sink didn't want to do the kiss in Stranger Things & people kept teasing her about it & were like, "Yeah, you gotta do it now." And then made her do it almost ten times. WHAT THE HELL.

— October Aeowyn (@OctoberAeowyn) October 30, 2017
With chaperones and parents of the kids on set at all times (Sadie's mum was present in the scene), we're sure the brothers didn't "make" Sadie do anything against her will but they probably they should have made it a more comfortable and less stressful situation for her - considering that was her first ever kiss too.
Watch Sadie, Caleb and the Duffer brothers discuss the scene below: