Maya Hawke's dad Ethan Hawke says he felt "so comfortable" directing her sex scenes
8 September 2023, 16:32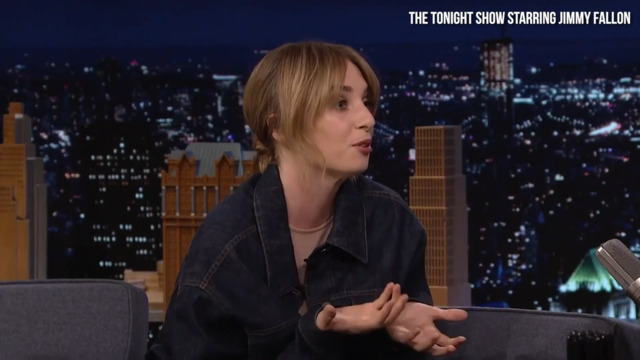 Maya Hawke says "F**k the Supreme Court" over abortion ban legislation
Ethan Hawke had to direct his daughter Maya Hawke's sex scenes in their new movie Wildcat.
Ethan Hawke has said that he felt "so comfortable" directing his daughter Maya Hawke's sex scenes in their movie Wildcat.
Maya Hawke may be best known now for her iconic role as Robin in Stranger Things but, as fans will already know, she was born into Hollywood royalty. Maya is the daughter of Academy Award nominees Ethan Hawke and Uma Thurman.
As it stands, Maya has never shared the screen with either of her parents. However, Maya plays the lead role in Ethan's new film Wildcat. The upcoming project is a biographical drama about American novelist Flannery O'Connor, and Ethan is both the director and writer. He co-wrote the script with American composer Shelby Gaines. Maya is also a producer.
Now, Ethan has opened up about what directing his daughter was like and how they dealt with the sex scenes in the film.
READ MORE: Maya Hawke gets caught lying about stanning Harry Styles in hilarious lie detector video
In Wildcat, Maya plays Flannery and six characters from her short stories. These short stories are depicted in the movie and they involve Maya having to act out a number of adult scenes with Ethan directing them. When asked how he felt about the scenes by Variety, Ethan said: "We were so comfortable with it. I couldn't care less."
The sex scenes in question also star Maya's co-stars Rafael Casal and Cooper Hoffman. In the same piece, Maya said that they used an intimacy coordinator to make sure that there wasn't anything awkward about them.
She added: "We made sure to have an intimacy coordinator on set for them. So that they felt safe and comfortable and not like they were being spied on…"
Ethan then finished: "…By some creepy dad."
Discussing how she feels about working with her dad and people calling her a 'nepo baby', Maya said: "I had moments of insecurity about it while we were shooting the movie. But the internet doesn't have a lot of nuances. My dad has been a massive teacher for me, and we want to work together. We like being with each other.
Ethan then said: "If someone wants to criticize us for working together, that's totally fair. You have to let people have their opinion. You just have to try to do a good job when you're onstage."
Read more Maya Hawke news here:
Olivia Rodrigo vs. 'The Most Impossible Olivia Rodrigo Quiz' | PopBuzz Meets