Millie Bobby Brown Wants Someone Very Special To Sing At Her 13th Birthday Party
9 January 2017, 15:06 | Updated: 7 November 2017, 16:53
No, it's not Brendon Urie.
If you could have *anyone* in the world to sing "Happy Birthday" to you, who would it be? In a dream world I think I'd invite Destiny Child to reform and recreate their megamix of hits during Beyoncé's Superbowl set with a 'Happy Birthday' chucked on the end. Some might describe that as 'iconic' and I would have to agree.
But let's be real, that's never going to happen because a) they're busy and b) I'm not famous. But what if you were famous? So famous that people might actually respond to your birthday request? Step forward, Millie Bobby Brown.
While our favourite eggo waffle addict was busy slaying the red carpet at the Golden Globes on Sunday evening (8 Jan), she decided to discuss her 13th birthday plans (it's Feb 19th, if you haven't got it marked in big red writing in your diary already). According to Teen Vogue, Millie was asked who she'd like to invite to the party and her response was pretty epic. Ready? *drum roll*
GIPHY
It's Adele! "She's an incredible singer", Millie added. Now, imagine Adele singing "Happy Birthday" to you. Holy fuck that would be amazing. Is Adele a Stranger Things fan? If she is, and Millie plans on coming back to the UK for her party, then this could possibly work!
Perhaps Adele should take the request seriously or maybeeee.... Adele could come play at my birthday? Adele, if you're reading this. My birthday is Feb 23rd and I'm in London. DM me for the address, yeah?
Thanks hun!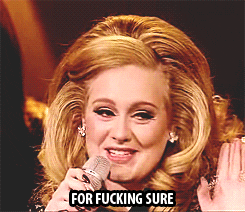 GIPHY