Netflix and Millie Bobby Brown's new film Enola Holmes is being sued
26 June 2020, 15:23 | Updated: 6 October 2020, 10:17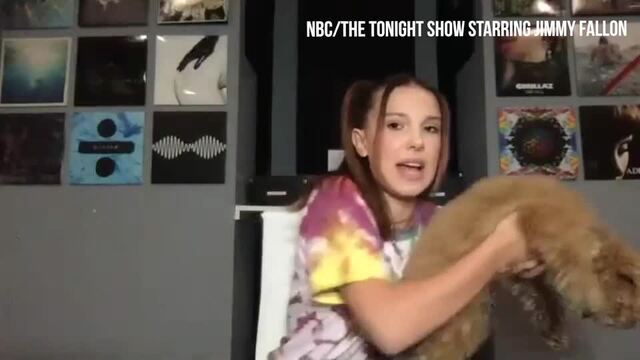 Millie Bobby Brown talks Stranger Things 4 filming with Jimmy Fallon
Legendary Pictures, director Harry Bradbeer, screenwriter Jack Thorne, Nancy Springer and publisher Penguin Random House have also been named in the lawsuit.
Netflix's upcoming Enola Holmes movie, which stars Stranger Things' Millie Bobby Brown, is being sued by the estate of Sherlock Holmes creator Sir Arthur Conan Doyle for "copyright infringement".
Millie stars as the teenage sister of famed sleuth Sherlock Holmes, based on the Enola Holmes book series, written by author Nancy Springer. Henry Cavill plays Sherlock Holmes himself and Helena Bonham Carter stars as their mother.
The movie isn't set to be released until September, but now Netflix, Legendary Pictures, director Harry Bradbeer, screenwriter Jack Thorne, Nancy and her publisher Penguin Random House, are being sued for copyright infringement and trademark issues.
READ MORE: Stranger Things season 4: Release date, spoilers, cast, news and everything we know
As reported by Deadline, a 19-page lawsuit was filed in New Mexico on Wednesday (June 24) by the Doyle Estate, who previously settled out of court after suing Miramax over the 2015 movie Mr. Holmes.
The Enola Holmes Mysteries novels feature elements from Sir Arthur Conan Doyle's Sherlock Holmes stories, which were created in 1887. In 2014, a judge decided that the Sherlock Holmes character (written before 1923) now belongs in the public domain.
However, they now claim that Enola Holmes takes elements from Conan Doyle's last 10 stories. In later works, written between 1923 and 1927, Holmes changed and was considered softer and more empathetic following the deaths of Conan Doyle's eldest son and brother in the World War 1. The lawsuit claims that Enola Holmes incorporates the "human connection and empathy" shown by the detective in the copyrighted books.
Lawyers acting on behalf of the Doyle estate are requesting a jury trial, unspecified damages and relief from further copyright infringements.
Enola Holmes will be available on Netflix in September.