Wait…Did Millie Bobby Brown Just Confirm Her Return To Stranger Things?!
25 October 2016, 10:43 | Updated: 7 November 2017, 16:51
Millie is teasing us and we're not happy about it.
At this point in time, we'll pretty much accept ANY information about the next series of Stranger Things. Honestly, we'll settle for knowing what tea bags or type of toilet roll they are using on set. Anything. ANYTHING.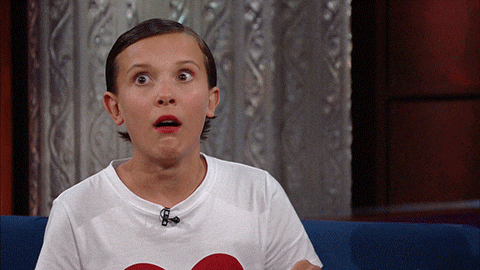 giphy
So far we know that the creators, the Duffer Brothers, are planning on introducing four new characters. The first to be confirmed were child actress Sadie Sink, who will play Max, who is described as "a tomboy with a complicated history and a suspicious streak" and the second, Australian actor Dacre Montgomery, who will play Max's older step-brother, Billy. His character is said to be "a classic girlfriend-stealing bad boy".
As for what will be happening, everything is under wraps. The only solid info we have is that the Duffer Brothers have been reading A LOT of fan theories about the show and they confirmed that one or two theories were correct. For the most part, however, everyone is wrong.
The cast have been keeping tight-lipped while production on the second series continues. In the case of Millie Bobby Brown, she's literally keeping her co-stars mouth shut!

Millie uploaded a picture to Instagram with her playfully posing with actor David Harbour, who plays police chief Jim Hopper, along with the caption, "Shhhhh @dkharbour don't say a word! #s02 #strangerthings @netflix @strangerthingstv."
How many eggo waffles do you think it will take to get Millie to spill the beans on Season 2? We need to know what happened to Eleven, goddamit! We think we're pretty safe concluding from the photo and the ending of the last series that she'll be making a return. What's still uncertain is how. GET YOUR THINKING CAPS ON FOLKS.
What do you think is going to happen? Let us know in the comments!
giphy