You Probably Missed This One Important Detail About THAT Miss Grundy Scene On "Riverdale"
13 October 2017, 16:52 | Updated: 13 October 2017, 17:00
The way she was [SPOILER!] was absolutely savage.
Let's talk about THAT plot twist at the end of the Riverdale season two premiere, shall we? (If you haven't seen the episode yet, put your phone down and watch it on Netflix RIGHT NOW. Then come back to this article. See you in 42 minutes.)
At the end of the episode, an absolute BOMBSHELL was dropped when the killer, who is now apparently known as The Angel of Death, broke into Grundy's house in Greendale.
Seconds later, she was strangled to death by the masked murderer, who also managed to slice her throat in the process. It was, quite honestly, the most gruesome scene Riverdale has ever shown... and we've seen Jason Blossom get shot square in the head.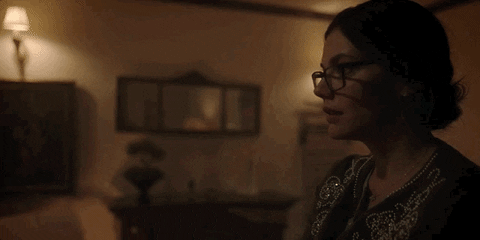 The CW
But did you happen to clock *what* she was actually strangled with?
Grundy was killed with a violin bow, which is ironic considering she's a music teacher, right? But there's a certain significance to the violin bow that you probably missed and it reveals so much about who the killer might be.
Cast your minds back to season one for a second. In episode four, Grundy finally gets rumbled after Alice Cooper finds Betty's diaries and discovers that Archie has been sleeping with his music teacher.
Just before Alice bursts through the door to ruin their final heart to heart, Archie gives Grundy a gift as a "don't forget me present"... a very expensive violin bow.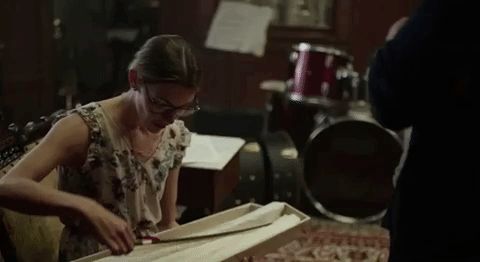 The CW
It just so happens that Grundy was murdered with that exact bow.
If the mysterious killer knowingly killed Miss Grundy with a gift that Archie gave her, he must have ~known~ about the two of them banging after school and on the weekends. Because why, out of aaaall the things he could have killed her with, would he have chosen the one significant gift she received from her chiselled underage squeeze?
So who killed Grundy? It must be someone who is familiar with our faves. We've formed our own theories that you can read right here but judging by the current victims, all fingers are pointing to her own ex-husband.
First Fred Andrews in the diner with a gun, and now Grundy in her house with a violin bow, it's pretty obvious that this killer is out to terrorise Archie. Question is... who'll be next?
The CW