Disney reveals live-action Moana remake is in the works
4 April 2023, 12:28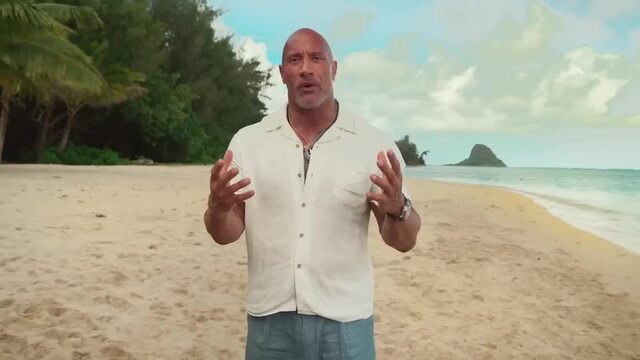 The Rock announces live-action Moana
A new Moana movie is in the works with Dwayne "The Rock" Johnson involved.
Moana may have only come out in 2016 but Disney are already adapting the beloved animated film into a live-action movie.
As soon as Moana was released in cinemas six years ago, it became an instant classic that ranks alongside the likes of The Little Mermaid, Tangled and Frozen. People all around the world fell in love with the titular character and her heartwarming journey to save her people. Not only that but the Moana soundtrack spawned numerous hits including 'How Far I'll Go'.
Now, Dwayne "The Rock" Johnson has revealed that a live-action Moana is in the works and he will be playing Maui again.
READ MORE: Halle Bailey says new Little Mermaid will be more "modern" than the original
According to The Hollywood Reporter, Dwayne confirmed the news in Disney's latest shareholders meeting. Dwayne teased that he will produce the movie and Auli'i Cravalho, who voiced Moana in the original film, will act as an executive producer. Dwayne will reprise the role of Maui but a director and the rest of the cast, including Moana, are yet to be announced.
Discussing the movie, Dwayne said: "This story is my culture and this story is emblematic of our people's grace and warrior strength. I wear this culture proudly on my skin and in my soul, and this once-in-a-lifetime opportunity to reunite with Maui, inspired by the mana and spirit of my late grandfather, High Chief Peter Maivia, is one that runs very deep for me."
Disney have also released a video in which Dwayne reveals the news. He says: "We are so excited and happy to announce that a live-action reimagining of Moana is in the works." He then adds: "It's still very early in the process. There's still so much work to be done."
As it stands, it's currently unclear when the live-action Moana will be filmed and when it will be released. Live action remakes of Peter Pan, The Little Mermaid and Snow White are set to come out this year and next. Meanwhile, live action remakes of Hercules and Lilo & Stitch are also in the works. We shall keep you posted with any updates.
What do you think? Are you excited for live-action Moana?
Play our Disney quizzes here:
ATEEZ Spill Their Secrets In 'The Tower Of Truth' | PopBuzz Meets