Sarah Hyland was originally rejected from Modern Family for being "too old"
21 July 2023, 12:57 | Updated: 21 July 2023, 13:03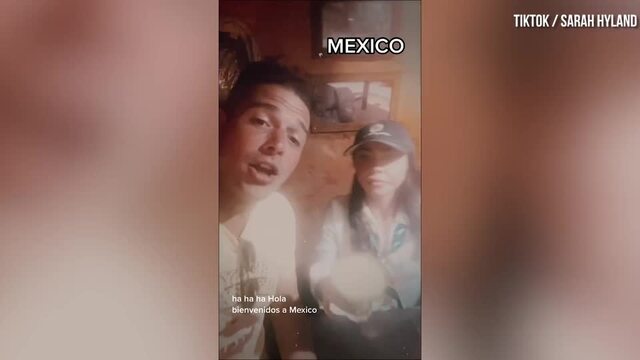 Sarah Hyland does drinking challenge with her husband
The team behind Modern Family originally wanted a younger actress to play the role of Hayley.
Modern Family? Without Sarah Hyland? I don't think. The actress has revealed that she almost wasn't allowed to audition to play the role of Haley Dunphy in the hit ABC sitcom because of her age at the time. Sarah was told that she was "too old".
As soon as Modern Family debuted in 2009, fans fell in love with the cast and characters. Whether you relate more to Claire and Phil, Jay and Gloria or Cam and Mitchell, there's a character for everyone and the show turned the cast into household names. From the child actors to the adult stars, it's impossible to imagine anyone else as the iconic Pritchard/Dunphy/Delgado/Tucker family.
READ MORE: Modern Family's Aubrey Anderson-Emmons goes viral on TikTok as fans can't believe how grown up she is
However, Sarah Hyland has just confirmed that she was initially turned away from reading for the part of Haley.
How old is Sarah Hyland?
Discussing her Modern Family audition with BuzzFeed, Sarah said: "Originally, they didn't want to see me for Modern Family because I was 18 and Haley's character was 15. They were like: 'She's too old'." She added: "My agent's assistant fought for me to get in the room. She was like, 'She doesn't look 18 years old, I promise you! She looks very, very young!'"
Explaining the audition process further, Sarah said: "So I went in and they pre-read me for the cast, like, they didn't put my audition on the tap, and then they brought in the casting director. The casting director, Jeff [Greenberg], had me read and then he was like, 'Okay, now do it again, and now I'll put it on tape.'"
Haley ended by saying: "They just were very much like, 'She's too old. She's 18.' And then after that, I went to see the director and creators."
Sarah Hyland is now 32 years old in real life and Haley would be 29 if the show was still airing.
Elsewhere, Sarah said that it was difficult being so young in the show. She said: "I was 18 when I started, I was there through all of my 20s. A lot of traumatic things happen to women when they're in their 20s. Most of the time you don't have to put on a smile and go to work and do it in front of millions of people — everyone has to smile and go to work."
She continued: "I think that was probably the most challenging part, was all of the lows in my 20s that I experienced. I had to very much put them to the side and leave it at the door whenever I went to work, because I just refused for anything to affect my job."
The Witcher Cast Interview Each Other | PopBuzz Meets