Nancy And Barb From "Stranger Things" Finally Reunited And We Weren't Ready
30 January 2017, 13:17 | Updated: 7 November 2017, 16:54
I'm not crying, you are.
One of the most heartwarming aspects of Netflix's hit-show Stranger Things was Nancy's dedication to find her best friend and bespectacled bad ass, Barb, after she's abducted by a pesky Demogorgon.
If you remember, Nancy is busy 'getting busy' with Steve Harrington but Barb, being the awesome best friend she is, decides to waits for her by the pool to make sure she gets home safely. Unfortunately the Demogorgon gets her first and, well, things don't go well. #RIPBARB
But thanks to the 2017 Screen Actors Guild Awards, Nancy and Barb finally found each other on the red carpet! Yep, Natalia Dyer, who plays Nancy, and Shannon Purser, who plays Barb, both attended the event with the rest of the cast, including our precious Stranger Things kids Millie Bobby Brown, Caleb McLaughlin, Gaten Matarazzo, Noah Schnapp, and Finn Wolfhard.
Natalia and Shannon posed for a photo and, oh my god, we died when we saw it...
Getty Images
*dies again*
How great do they look? They both looking so elegant and classy. Barb would be proud of these girls right now.
It was a big night for the cast as they won the Outstanding Performance by an Ensemble in a Drama Series category and they all took to the stage to collect the award.
We don't expect this will be the last time they pick up some gongs, and we certainly hope it won't be the last time we see Barb with the Stranger Things cast. #BringHerBackFromTheDead #NoIDontCareIfThatsImplausibleAndDumb #JustDoIt.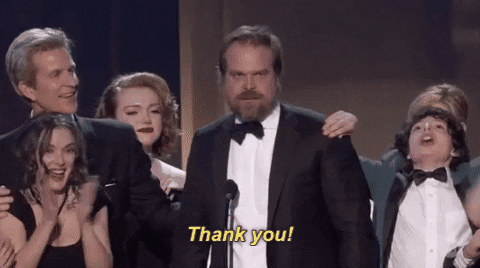 TNT / via giphy.com