Stranger Things 2: What Was Nancy And Steve's Halloween Costume?
30 October 2017, 15:43 | Updated: 7 November 2017, 16:46
It was a very subtle reference to a very famous movie...
One of the best parts of Stranger Things 2 was the Halloween episode right at the start of the season. Most of the Halloween costumes in the show were all 80's pop culture references; the boys obviously went as Ghostbusters, Max as Michael Myers from Halloween. At the party, there was a lycra-clad Jane Fonda, Like A Virgin Madonna, The Karate Kid, then-presidential candidate Ronald Reagan... basically a bunch of really recognisable outfits. Then there was Steve and Nancy. What the on earth were they dressed as?
If you were born in or before the early '90s and have seen your fair share of '80s movies, you might have a tiny idea about who they were meant to be but if you were born in like, 1996 or later? You DEFINITELY won't have a clue what they were. Unless you're some kind of teenage Tom Cruise stan in which case... good for you and also, why?
Turns out, Nancy and Steve's fancy dress outfit was a very low-key reference to the 1983 film, Risky Business starring Cruise and Rebecca De Mornay. It was the film that catapulted Cruise into superstardom and one that we assume is a big favourite of Nancy's because she's got a Tom Cruise poster on her bedroom wall.
Here they are in the show:
Netflix
And here's their inspiration on screen in Risky Business:
Warner Bros.
Pretty spot on, right? Nancy nailed it! Steve even threw on the signature Rayban sunglasses from the movie poster too. We'll be honest though, we would have much rather Steve had rocked up to the party wearing the more iconic outfit from the opening scene of the movie. You know the one... white socks, underwear, shirt with the collar popped...
Steve, take one for the team next year. Please and thank you.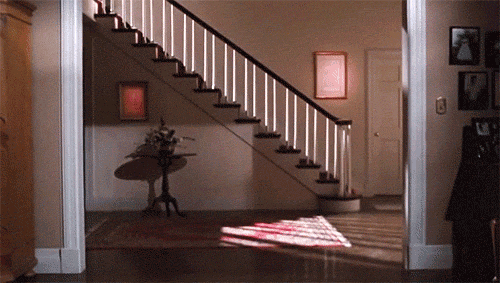 Warner Bros.