Glee star Naya Rivera pronounced dead after body recovered from lake
13 July 2020, 22:16 | Updated: 13 July 2020, 22:43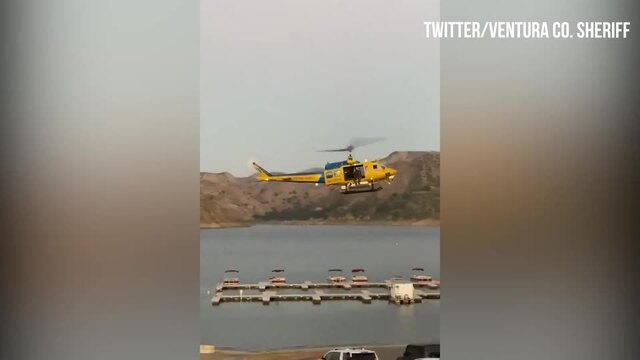 Police search for missing Glee star Naya Rivera
RIP Naya Rivera.
Glee fans are mourning the death of Naya Rivera, aged 33, as police have now confirmed that they have found her body after going missing five days ago (July 8).
In a press conference today, the police said that they believe the body they found is Naya, who played cheerleader Santana Lopez on the hit TV show, and that there was no indication of foul play or suicide. An autopsy will be conducted soon to establish cause of death.
Tragically, today also marks the seven year anniversary of the death of another Glee star, Cory Monteith, who died of a drug overdose in 2013.
READ MORE: Lea Michele deletes Twitter after being trolled over Naya Rivera's disappearance
The Futura police department had been searching for Naya since she went missing last Wednesday after going boating with her four-year-old son, Josey, at Lake Piru, California.
According to the police, he was found alone and asleep, wearing a life jacket, in the boat and he told officers that he had seen his mother "disappear beneath the water". The police think that Naya pushed Josey back onto the boat, possibly saving his life, shortly before she drowned.
The news conference has concluded. Sheriff Ayub has confirmed the body recovered at Lake Piru today was Naya Rivera. Our hearts go out to her family, friends and fans during this difficult time. An autopsy will be performed to determine the cause of her death.

— Ventura Co. Sheriff (@VENTURASHERIFF) July 13, 2020
After an extensive search and rescue effort, police could find no trace of Naya and she was presumed to have died. They believe she must have drowned in a "tragic accident".
Earlier today (13/07), ABC News reported that Naya's family and former Glee cast mates met and held hands at the edge of the lake where Naya went missing.
Shortly before her disappearance, Naya shared a photo with her son with the caption "just the two of us."
Celebrities, fans, friends took to social media to share their grief and condolences to Naya's loved ones.
Rest sweet, Naya. What a force you were. Love and peace to your family.

— Jane Lynch (@janemarielynch) July 13, 2020
I'll never be able to articulate the importance of seeing Naya, a Black Puerto Rican, portraying a queer Afro-Latina on primetime TV. I'm heartbroken over all the stories that will remain untold. #RIPNayaRivera pic.twitter.com/UGq2rDwWay

— Steven Canals (@StevenCanals) July 13, 2020
fuck man. rip naya rivera. thank you for helping me find myself and feel less alone when i was young. you will be missed.💔 i can't believe this whole situation.

— MAGGIE LINDEMANN (@MaggieLindemann) July 13, 2020
the reason songbird by fleetwood mac is one of my favorite songs ever is because of the glee soundtrack version. she transformed it. 🙏🏼 Rest Easy Naya Rivera
God cover and hold her loved ones!

— Kehlani (@Kehlani) July 13, 2020
They've confirmed that the body found in the lake is Naya Rivera.

Rest in peace beautiful 💛

— machine gun Kele (@kelechnekoff) July 13, 2020
This is an absolute nightmare. I had the pleasure of having dinner with her once after a recording session we did together and she was an absolute sweetheart. My heart goes out to her family and friends. I hope I'm lucky enough to meet you up in heaven. Rest In Peace Naya Rivera

— Bebe Rexha (@BebeRexha) July 13, 2020
Now more than ever we must lift her family and friends up especially Josey! My heart is sent to them... Josey you are truly loved by every single person who loves your mommy! I love you Naya!

— Alex Newell (@thealexnewell) July 13, 2020